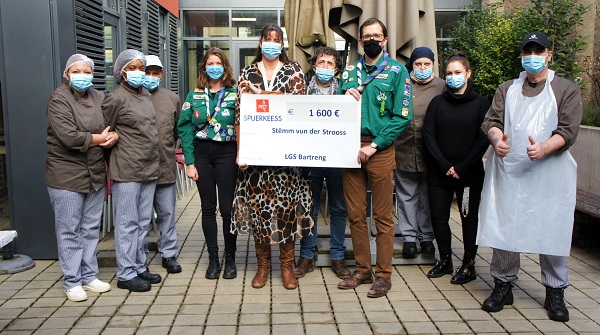 Credit: Stëmm vun der Strooss
On Wednesday 13 January 2021, the Guides and Scouts of Bertrange, represented by Jil Hahn and Pascal Theis, handed over a cheque for €1,600 to the Luxembourg non-profit association Stëmm vun der Strooss.
Alexandra Oxacelay, Director of Stëmm vun der Strooss, expressed her gratitude for this gesture of goodwill, pointing out: "Thanks to your collection of donations, in November when you made Advent crowns to sell for the benefit of the Stëmm vun der Strooss, we are slowly but surely reaching the €30,000 mark which will be used to finance our sheltered terrace at 7 Rue de la fonderie in Hollerich".
On behalf of the Bertrange Guides and Scouts, Jil Hahn commented: "During such an exceptional period, in times of crisis, it is important to keep in mind that supporting the most vulnerable people is of utmost importance". This was the main reason behind the decision to support Stëmm vun der Strooss in their important work in winter and especially during the pandemic. Jil Hahn went on to address the underprivileged in the association's social restaurant.
Due to the current health situation, the organisation of the Advent wreath sale had been difficult this year. However, this did not prevent the Guides and Scouts of Bertrange from finding a solution and taking action. They managed to adapt and divided the 25 scouts and friends of the scouts into groups of four and during the course of a week, they were able to create 130 Advent wreaths, which they then sold on a stand in front of the church in Bertrange.