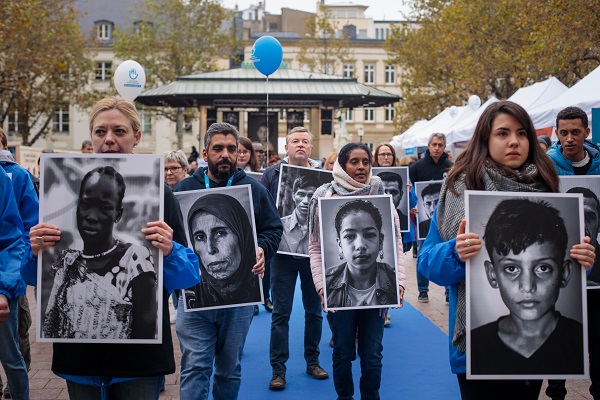 2019 Pyramid; Credit: HI / Matic Zorman
Handicap International has announced that it is organising its emblematic "Pyramid" against the bombing of civilians this Saturday 3 October 2020 in Place Clairefontaine in Luxembourg-ville, from 10:00 to 17:00.
Due to the ongoing COVID-19 health crisis, this year's event will be accompanied by a large online mobilisation initiative where everyone is invited to challenge MPs and post their own "mini Pyramid" on social networks.
Every first Saturday of October for the past 21 years, Handicap International has been setting up its Shoe Pyramid in Luxembourg. For this edition, which requires compliance with essential health measures, the association has concocted a "COVID-safe" event centred around an exhibition and launches its call for mobilisation against the bombing of civilians on social networks, with the hashtag #PyramideHI20 and on the website www.6moispourgagner.lu. The idea is to support the fight led by Handicap International for the protection of civilians through mini Pyramids formed by the public themselves.
Creative souls wishing to participate can use whatever they have on hand (cans, video games, books, school equipment, toys, etc.) to build their own mini Pyramid, while sportier individuals can design a triangle-shaped route in their favourite running app (Strava, Runstastic, Garmin, Adidas Running...). Each then posts their contribution on social networks with the hashtag #PyramideHI20.
Like last year, the public can also send an email (via www.6moispourgagner.lu) to MPs urging them to take up the subject and ensure that the government is actively involved in this ongoing international process. For a year now, Luxembourg, alongside 70 other states, has been involved in negotiations leading to a strong political declaration on the use of explosive weapons in populated areas. Handicap International has provided extensive documentation to provide evidence of the disastrous consequences of this military practice and to convince states to vote in favour of its ban.
"A unique opportunity to change the law of war as it exists", commented Mehdi Magha, Director of Handicap International Luxembourg. "The lockdown [in] spring delayed this historic diplomatic process but did not suspend it. The end of the year will be decisive: we have six months to finally win against the bombardment of civilians".
The NGO maintained that Luxembourg can be one of the leading countries in the fight against the use of explosive weapons in populated areas; this is the message that the association will bring to the Minister of Foreign and European Affairs, Jean Asselborn, during an interview scheduled this week.