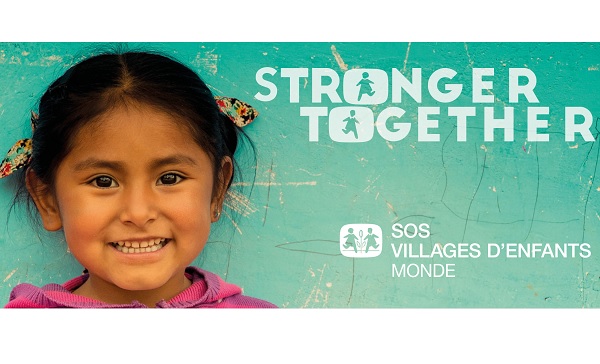 Credit: SOSVE
SOS Villages d'Enfants Monde has announced the launch of its new sponsorship campaign, with the slogan "Stronger Together"; the campaign will run in Luxembourg from 1 to 31 October 2020.
The "Stronger Together" campaign highlights the need for solidarity with the world's most vulnerable people, not least in these particularly challenging times (COVID-19 pandemic). The campaign is particularly aimed at supporting children who have lost or are at risk of losing parental care and who are now experiencing the full force of the health crisis and its psychological, educational, social and economic repercussions. As so many other tragedies continue to threaten the lives and well-being of children and threaten their basic rights, sponsorship is one concrete way to respond. It is a personal and long-term commitment to enable children who have gone through terrible ordeals to be able to live their childhood and look forward to the future.
This campaign runs over one month and benefits from the support of a sponsor, LALUX Assurances, and the contribution of ampersand.studio. One female and two male sponsors (or "godparents") are the spokespersons of the campaign who will try to motivate as many people as possible to join the large family of SOS sponsors in Luxembourg, committed in more than 100 countries. These are Magali Maillot, "godmother" since 2006, Rudi Huss, "godfather" since 2001, and the renowned Luxembourg musician Pascal Schumacher, also an SOS Ambassador, who has been involved since 2017. Throughout the campaign, they will share their testimonies, namely in video format, presenting their motivations, their sponsorship experiences and their relationships with their "godchildren".
Sponsoring a child means giving him / her the chance to re-establish emotional ties within a new family and guarantee they grow up with everything they need to develop (food, clothing, school materials and medical care), live life as a child, flourish, acquire autonomy and assert his / her rights. Sponsoring an SOS Children's Village means contributing to the support of all the children who live there and meeting their daily needs, as well as participating in the proper functioning of the SOS educational, medical and social infrastructures open to children in the community and supporting SOS programmes aimed at preventing family separation.
With €1 per day, sponsors can change a child's life; with €0.70 per day, sponsors can help keep a children's village alive and improve the well-being of children in the community.
For more information, contact Sonia dos Santos, who is in charge of sponsorship, via email: sponsorship@sosve.lu or tel.: 490-43026 or consult www.sosve.lu.