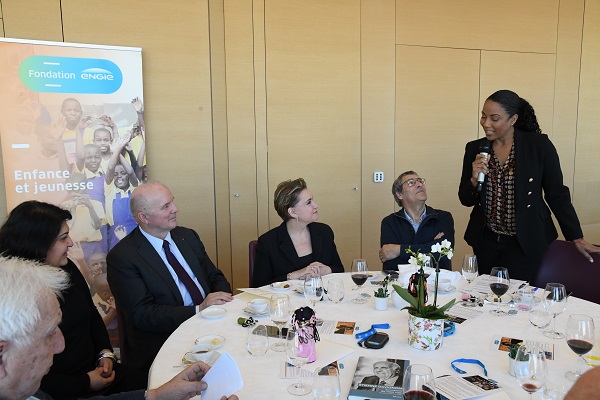 Credit: © Fondation ENGIE
Luxembourg non-profit organisation Stand Speak Rise Up! announced its first concrete project at the annual lunch of the ENGIE Foundation in Paris on Thursday 6 February 2020; the association plans to build an orphanage for children born of rape.
Her Royal Highness the Grand Duchess of Luxembourg, who initiated the association, attended the annual lunch of the ENGIE Foundation, a partner of Stand Speak Rise Up!, as guest of honour. She was joined by several French personalities engaged in the social, ecological and cultural domains, including Jacques Attali, former counselor to French President François Mitterrand, French Army General Jean-Louis Georgelin and politicians Jean-Louis Boorlo and Sophie Cluzel.
During the event, the Grand Duchess highlighted the unifying role of the Stand Speak Rise Up! association, the objective of which is to denounce sexual violence as a weapon of war throughout the world. She also presented the association's latest advances, notably announcing its first concrete project: the construction of a house for orphans born of rape, including a training plan and psychological and social support.
The Grand Duchess' speech also praised the essential role played by Luxembourg companies who contributed to the success of the Stand Speak Rise Up! Forum in March 2019. These major players remain key partners in the implementation of actions in the field. She also took the opportunity to thank the ENGIE Foundation, which provided support during the forum and which continues to support the association's projects.