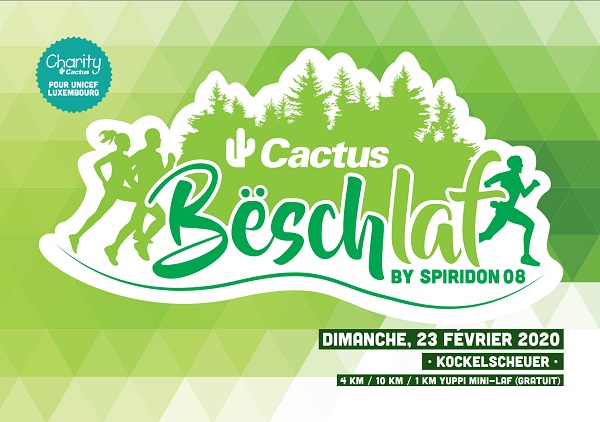 Cactus and the club Spiridon 08 Lëtzebuerg have announced that registration is now open for the first Cactus Bëschlaf, a charity run which will take place on Sunday 23 February 2020 through the forest at Kockelscheuer.
The Cactus Bëschlaf is a solidarity race for the benefit of UNICEF Luxembourg. Participants can take part alone, with family, friends or colleagues in the 10 km, 4 km or 1 km Yuppi Mini-Laf races.
Cactus has undertaken to donate €2.50 per registration to UNICEF Luxembourg. The funds raised will go to the Living Schools project in Malawi, one of the poorest countries in the world. These schools provide opportunities for girls and boys by giving them access to education and showing them how to use their country's resources in an ecological and sustainable way.
The Yuppi Mini-Laf, which is free of charge and open to children aged 5-12, will begin at 09:30, followed by the 4 km and 10 km timed races at 10:00. Participation in the 4 km race costs €5 in advance (before 14 February) or €8 on the day of the race. The 10 km race costs €10 in advance (before 14 February) or €15 on the day of the race.
A cloakroom will be available for participants inside the Kockelscheuer ice rink. Participants should collect their bibs on Saturday 22 February 2020 between 10:00 and 17:00 in the Cactus Howald gallery.
The Cactus Bëschlaf inaugurates the Spiridon Cup 2020, a challenge made up of four races organised by Spiridon 08 Lëtzebuerg.
For more information and registration, visit www.cactus.lu/beschlaf.