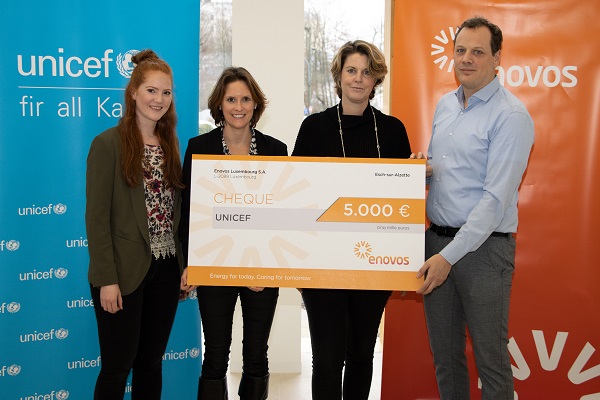 UNICEF representatives Martine Karier and Anne-Catherine Richard with Enovos representatives Danny Bonifas and Kim Hermes; Credit: Encevo
As a long-standing partner of UNICEF Luxembourg, Enovos has presented a cheque for €5,000 to the humanitarian organisation in order to support its winter campaign, "Wanteraktioun".
The UNICEF campaign aims to provide winter clothing for Syrian children in Syria itself and in refugee camps in its neighbouring countries.
As the crisis enters its ninth year, millions of adults and children have been forced to leave Syria as a result of the violence. Many refugees live in camps in Jordan, Lebanon and Egypt. Among them are more than 1.1 million children who need clothing suitable for winter conditions. Due to the cold and lack of medical care, children are at risk of dropping out of school, becoming seriously ill or even dying.
To protect them from the cold, UNICEF is distributing warm clothes and blankets, providing cash assistance so families can heat their shelters and buy essentials and medicine. In addition, UNICEF is heating schools to ensure that children can continue their education during the winter months.
In this context, the money donated by Enovos will go towards providing, for example, 1,000 thermal blankets, 417 pairs of winter boots or even 35 winter clothing kits, containing a hat, scarf, gloves, warm coat, socks, boots and a thermal set.