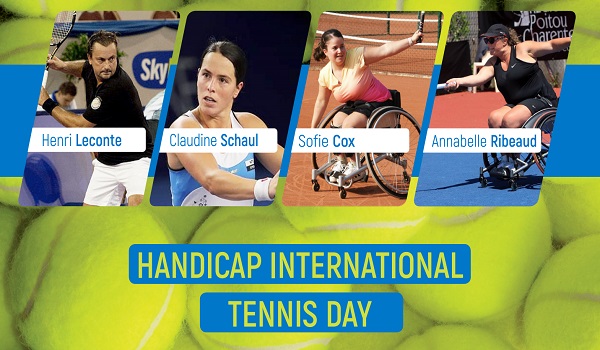 The first edition of the Handicap International Tennis Day will be taking place on Saturday 14 September 2019 at the Tennis Club des Arquebusiers in Luxembourg-Belair (140 Val Sainte-Croix, L-1370 Luxembourg), from 12:30 to 17:30.
This upbeat sporting afternoon, dedicated to tennis and disabled sports, will bring together big names in the discipline, namely former local tennis player Claudine Schaul (former world no. 41) and former French professional tennis player Henri Leconte (former world no. 5). Sofie Cox, wheelchair tennis and dance champion from Belgium, will also be taking part, as will Swiss wheelchair tennis champion, Annabelle Ribeaud.
The players will compete in singles, doubles and mixed games and this will be an opportunity for the public to learn more about wheelchair tennis.
In addition, Handicap International will be offering various activities, such as a virtual reality game on the theme of humanitarian demining, a buffet and other surprises.
A raffle will also allow participants to win prestigious prizes, such as an hour of play with Henri Leconte followed by lunch with the champion, an hour of play with Claudine Schaul, an autographed Mandy Minelle racket, a polo shirt autographed by Gilles Muller, a voucher book for five court bookings at Arquebusiers or a pilates discovery session by Well Being.
The event costs €25 per adult, €15 per child and is free for children under six years. Discounts are available for large families. Register before 8 September to receive a free raffle ticket. To register, see https://handicap-international.lu/fr/actualites/tennis-evenement-de-cloture-et-match-d-exhibition?fbclid=IwAR39cncpkn4UW5lMlUNgcxJREMrBRh0l1cA8b1GRniDiRUu6pSu0YX8UGSQ.
All proceeds of the event will go towards Handicap International Luxembourg.