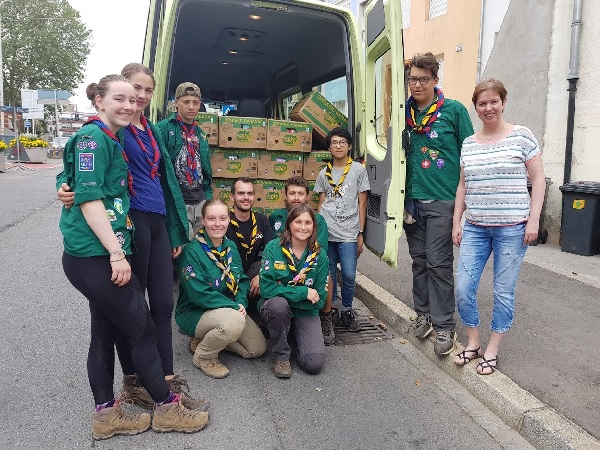 Kayl scouts with their collected boxes; Credit: Cactus
The St Marie Scouts from Kayl have donated sixteen boxes full of hygiene products to Luxembourgish NGO Stëmm vun der Strooss.
To celebrate their 100th birthday, the Kayl Scouts decided to launch a charitable initiative to support Stëmm vun der Strooss. Thirteen scouts from the CaRaPio and RaRo groups took part in the project; they started by printing flyers and then distributed them at the entrance of the Kayl Cactus store to inform potential donors of the initiative.
The collection was launched on 26 July 2019 and Stëmm vun der Strooss set up an information stand for the occasion. After five hours, they managed to collect sixteen boxes full of hygiene products.
The scouts donated the boxes personally to the head of the social restaurant in Esch-sur-Alzette, Claude Consdorf, who stressed: "These actions are extremely important and help us enormously in our daily work with the disadvantaged. I thank you with all my heart and I also thank the many donors".
The Kayl Scouts have expressed hope that their action will inspire others.