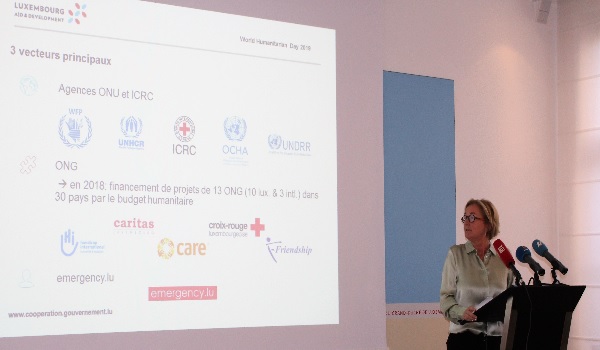 Paulette Lenert presents an outline of Luxembourg's humanitarian aid over the past year; Credit: MAEE
On the occasion of World Humanitarian Day 2019, which took place yesterday, Luxembourg has reflected on its humanitarian aid over the past year.
On Monday, Minister of Cooperation and Humanitarian Action Paulette Lenert presented Luxembourg's humanitarian action at a press conference.
In 2018, the Grand Duchy devoted €53 million (13.21% of official development assistance) to humanitarian aid. The year was dominated by humanitarian crises in Syria and Yemen, but also in the Sahel and Lake Chad region. In response, the government made substantial funds available to Luxembourg NGOs, so that they could carry out emergency projects, and to the United Nations (UN) agencies and the International Committee of the Red Cross (ICRC), to support their humanitarian operations.
The emergency.lu emergency communication device also formed an integral part of Luxembourg's humanitarian aid. In 2018, 20 terabytes (20,000 MB) of data were transferred via mobile satellite telecommunication systems to South Sudan, the Democratic Republic of the Congo, Niger and Nigeria in support of the UN agencies the World Food Programme (WFP), the United Nations High Commissioner for Refugees (UNHCR) and the United Nations Children's Fund (UNICEF). In addition, five young people are currently involved in humanitarian work on behalf of Luxembourg with the WFP, the UNHCR, and the United Nations Office for the Coordination of Humanitarian Affairs (OCHA).
World Humanitarian Day is an opportunity to highlight global humanitarian challenges, namely climate change and geopolitical crises, and pay tribute to the work of humanitarian actors. The most common cause of humanitarian crises is international conflict. According to the UN, more than 135 million people are in need of humanitarian aid, but only 97.9 million are benefiting to date.
In 2019, World Humanitarian Day was dedicated to the work of women in crisis situations around the world. On the one hand, it is important to value the contribution of women in the most difficult situations, and on the other hand, to insist on the need to guarantee the protection of international law for all persons without distinction. The keywords #HumanitarianWomen and #WomenHumanitarians highlighted the experiences of humanitarian workers on social networks this year. Indeed, 2018 saw 405 humanitarian workers subjected to major violence. 131 of the victims were killed, whilst a further 144 were injured and 130 were abducted.
Concerning the subject of women, Luxembourg also used this occasion to reflect on one of the four priority themes of its general strategy for cooperation ("En route pour 2030"): strengthening the socio-economic integration of women and young people. Moreover, gender equality and empowerment for all women and girls is one of the 17 United Nations Sustainable Development Goals.