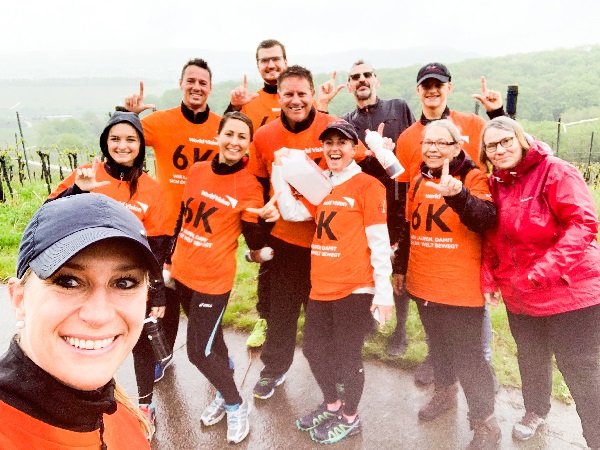 PM-International Charity Ambassador Vicki Sorg (front row, 3rd from right) in Schengen together with her husband, CEO and Founder Rolf Sorg (back row, 3rd from left), friends and family; Credit: PM-International AG
PM-International AG, which has its headquarters in Schengen, has raised €19,000 for the humanitarian aid organisation World Vision.
Six kilometres is the average distance children in developing countries need to walk to access water. That is why, from 4 May to 30 June 2019, more than 60,000 participants of the World Vision's Global 6k Run for Water walked or run this distance. With this campaign, the relief, development and advocacy organisation World Vision wants to give 6,000 children in Africa better access to clean drinking water, education and health.
In this context, PM-International AG supported World Vision as a sponsor with a total of €19,000 to be used by the organisation in Luxembourg and Germany. The proceeds generated by the participants' registration fee will go towards sponsorship projects to improve the drinking water supply in the affected regions. For example, the funds will be used for the construction of boreholes and water pipes.
The company also motivated more than 500 of its distribution partners in Luxembourg and Germany to participate and together they covered a total distance of 3,000 kilometres.
For instance, PM-International Charity Ambassador Vicki Sorg, who has been working with World Vision for more than fifteen years, organised a run through the vineyards around the company's International Headquarters in Schengen, which she completed together with her husband, CEO and Founder Rolf Sorg, as well as other family members and friends. She commented: "Water is life - and especially for children the basic prerequisite for a better future. We are glad to support children with World Vision for whom safe drinking water is not a matter of course. We have all run the six kilometres so that hopefully, they won't have to do it anymore in the future".
Former professional handball player and world champion Christian Schwarzer, as well as extreme athlete Achim Heukemes, also took part on behalf of PM-International. Christian Schwarzer, who organised a run in Niederwürzbach, Saarland, emphasised: "Doing sports for a good cause is the easiest and most beautiful activity in the world! [...] With our run, I hope that we were able to make a small contribution to significantly increase the number of boreholes for drinking water".
For Achim Heukemes, it went without saying that his team would run the 6k race with a water canister: "We wanted to show people how far six kilometres are and what a challenge it is to cover this distance while bearing a weight. We hope to be able to contribute to a sustainable improvement of the situation in Africa".
The Global 6k Run was launched by World Vision in 2014. With more than 60,000 participants in 30 countries, it is the largest race of its kind in the world.