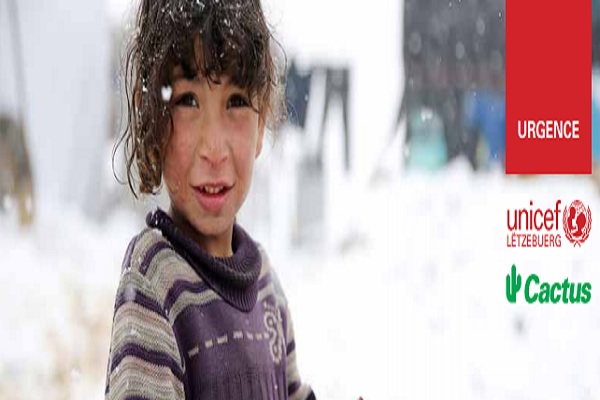 As part of this year's "Wanteraktioun" run by Cactus, the Luxembourg supermarket has partnered with UNICEF-Luxembourg to raise money towards providing over one million children in Syria with warm clothing this winter.
After 7 years of conflict, Syria is one of the most dangerous places in the world to be a child. Many Syrian children have lost their homes, their schools and even their families and they are faced with violence, limited or no access to clean water, adequate nutrition or health services. Winter is an additional threat for children affected by the civil war in Syria. Icy temperatures, severe storms and heavy snowfall will aggravate the difficult living conditions of conflict-affected families, trying to survive with the bare minimum in Syria and neighbouring countries such as Lebanon, Iraq, Turkey and Palestine. Many of them have fled violence and live in refugee camps with little protection from the freezing cold.
The Middle East is often associated with mild winters, which is a myth for many children living in refugee camps in Syria and surrounding countries. In these areas, winter often reaches temperatures near or below 0 ° C. Without help, the cold can become another blow for these children whose health is already weakened by displacement, lack of medical care and limited access to adequate nutrition and even under-nutrition. Hypothermia and respiratory infections are serious threats to the health and lives of children.
Thanks to its donors, UNICEF has planned to help 1.3 million children in Syria and its neighboring countries with its winter initiative. The priority is to reach the most vulnerable children and protect them from the cold with the provision of warm clothing and blankets as well as cash assistance for families to heat their shelters and buy essential goods and medicines. In addition, UNICEF is heating schools to ensure that children can continue their education during the winter months.
Members of the public wishing to contribute to this initiative are asked to donate either directly to the UNICEF-Luxembourg account: IBAN LU71 1111 2144 2050 0000 (mention: Froid) or online at www.unicef.lu/froid. From 27 November to 9 December 2018, Cactus customers will also be able to make a donation when making a purchase in the supermarket. This is possible by adding €5 or €12 to their purchases by presenting a barcode card available at each till. Similarly, customers can give 500 points (€5) or 1,200 points (€12) with their Cactus Customer Card.