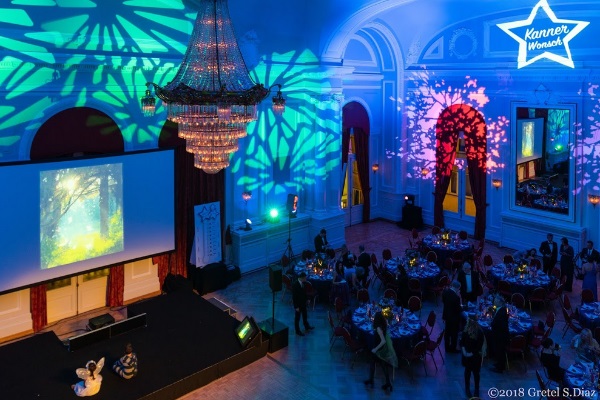 On Saturday evening, the elegant Cercle Cité was transformed into an enchanted fairyland as Kanner Wonsch - formerly known as Make-a-Wish - celebrated their 6th annual Gala charity event.
Kanner Wonsch grants the wishes of children living in Luxembourg between the ages of 3 and 18 years old with life-threatening medical conditions, and has fulfilled 23 wishes since their origination in Luxembourg in late 2012.
178 people, arriving in formal attire and a festive mood, enjoyed a very special evening that raised €28,366 to enable future wishes to come true. As guests ascended the curving staircase to the grand ballroom, they entered an enchanted fairytale. Beneath the shimmering crystal chandeliers, fairy lights twinkled as lasers created a multi-coloured forest. While enjoying crémant and canapés, a harpist's soothing chords set a celestial tone, as winged fairies with flower wreaths adorning their heads danced through the forest , creating a fantasy as splendid and spectacular as the wishes Kanner Wonsch grants.
As guests began a lavish 4-course dinner created by French caterer Marcotullio Réceptions, Founder and President Marcel Hagendoorn welcomed everyone and shared a video of one of the wishes; Alex, a 5-year-old with leukaemia who wished to be a Superhero. Alex helped the Luxembourg police battle the Joker to save ING Bank and Luxembourg. This wish was realised through the support of over 65 volunteers, and included participation from Luxembourg police, firefighters, bike groups and even the Grand Duchess, showing the magic of a wish touches not only the child and family, but the entire community. Alex's mother, Madalina Milliot, provided a heartfelt video message, expressing the impact the wish had on Alex, and the healing power of a wish come true.
Elodie Kessler, Kanner Wonsch Office Manager, explained the steps from wish inception to fulfillment, and a team of actors illustrated the steps in an expressive and entertaining manner. Marcel then announced Alison Adams as the recipient of the Volunteer of the Year Award. He also thanked the event sponsors Lombard International Assurance, EY and Volkswagen Payments S.A., the donors, and everyone attending, for making it not only an evening to remember but an evening with long term benefits.
A key highlight was the excitement of the Live Auction, where Master of Ceremonies Jim Kent energised the audience for 10 rounds of bidding on fabulous prizes donated by companies and individuals, with all proceeds going to Kanner Wonsch for future wishes. There were 58 Auction items to choose from (10 Live and 48 Silent), with arts, collectibles and services as well as adventure, cultural and activity experiences including: Treasure Hunt through Luxembourg, Torch Hike through the Red Rock Region, Meet and Greets with the Ambassadors of Austria and Germany, Balloon Ride, Flight Simulator, Cooking Classes, Tennis, Golf, Yoga/Pilates Classes, MUDAM Private Tour, Andy Schleck's Jersey and many more.
The Live Auction item that generated the highest bid was a "Private wine tasting in your home with representatives from Dr. Hinkel Winery," coming in at €1,600. The most popular Silent Auction item was "Advent Coffee at the German Embassy and a Berlin Buddy Bear," which generated 20 bids.
The magical evening continued with enjoyment of themed specialty cocktails "Enchanted Forest" and "Gin Come True" and dancing until 02:00, and most importantly the knowledge that more wishes could be fulfilled for children in Luxembourg.