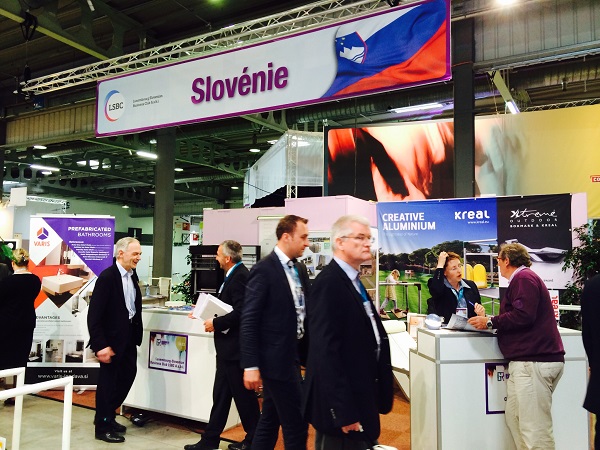 Cooperation is by now a familiar feature of the European landscape; the tendency towards bilateralism is on the rise throughout Europe and now it is a perfect opportunity to explore. The Luxembourg Slovenian Business Club (LSBC) made a step towards closer cooperation between smaller EU states and invited Luxembourg-based company ProNewTech S.A. to participate at Slovenian delegation stand at GR Business Days 2015 that took place at LuxExpo.
Both Slovenia and Luxembourg have much in common, as they are two of the smallest countries EU28, with a similar culture and a highly educated residents. In particular, both countries have great potential as a hub - a springboard to expand operations in the region and globally - Luxembourg with its 3000 billion global financial centre, with a rapidly growing IT industry and the central offices of the largest corporations in the world, Slovenia on the other hand is an excellent source of research and development, innovation and high IT literacy and a highly skilled workforce, as well as exit to the SEE market.
"We had the pleasure to be invited to the 1st Slovenian delegation stand at the GR Business Days! In this context, we would like to thank the people behind the Luxembourg Slovenian Business Club, namely Ms. Nataša Zajec and Mr. Iztok Petek, for the organisation of this stand." said Roland Streber, owner and co-founder of ProNewTech.
"ProNewTech is already working closely with different Slovenian companies as well as with the University of Ljubljana (Progressive Methodology for energy efficient Neighborhood / Networking - ProMeeN). Therefore, the invitation to participate at the GR Business Days at the LSBC stand was another great opportunity to enhance our knowledge concerning the activities of Slovenian companies and to meet Slovenians living in Luxembourg. For our company, the know-how of Slovenian engineers is an important factor in several joint projects and, in addition, these relations represent a hub to the different countries on the Balkan. Introducing new Slovenian high-quality products on the Luxembourgish market can also represent a great opportunity as these products/brands are often not yet known in Luxembourg. As Slovenia and Luxembourg are two small countries with similar interests and frame conditions within the European Union, we hope that the exchange can be deepened in the future in order to establish economic ties and to explore new business opportunities. As of today, ProNewTech has already been able to make positive experiences by collaborating with different Slovenian business partners and therefore plans to enlarge its contacts in Slovenia. Experiences like the shared space at the GR Business Days surely help to encourage future collaborations. It should be noted that a lot of Slovenian and Luxembourgish companies are currently not yet aware of the potential that deepened relations between the two countries could have. Furthermore, it should be mentioned that both countries are part of the Euro-Zone and must respect European regulations. This should facilitate future business exchange, which was promoted during the presence at the GR Business Days."
Slovenian companies presented their highly innovative and top designed products (two prestigious Red Dot Award winner 2015) and services with the following features: using high-end quality materials, employing principles like co-creation, Smart-cities, Green construction, Innovative and highly scalable business models etc. Stand was visited by a number of companies/individuals and institutions from the Region and beyond.