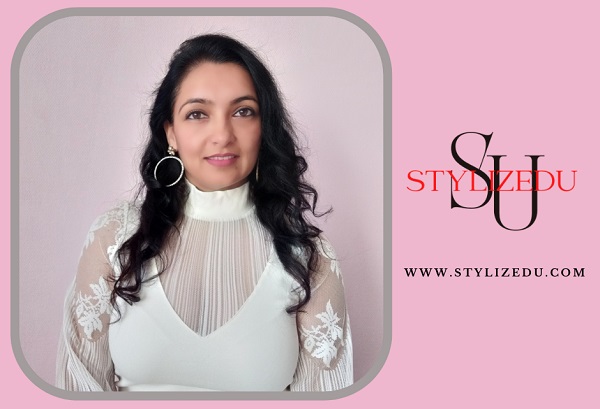 Neha Bhandari; Credit: StylizedU
Chronicle.lu recently sat down with Neha Bhandari, owner and founder of StylizedU, a Luxembourg-based style and image consultancy, to learn about her entrepreneurial journey, her advice for budding entrepreneurs and her tips for staying both warm and fashionable this winter.
Neha Bhandari studied fashion merchandising and management as well as business administration in India. She later moved to Arizona in the United States (US), where she studied fashion styling before going on to teach within the fashion merchandising and design department of Mesa Community College - an experience that involved in-depth research of the local and international markets. Neha next moved to Luxembourg where she launched StylizedU, a one-stop shop offering in-person and online personal styling services.
Setting up
Neha explained that her entrepreneurial journey in Luxembourg started about eight and a half years ago. The process of obtaining a business permit and a VAT number was not long but it was challenging to find the relevant information since there was no single touchpoint, such as today's House of Entrepreneurship or similar entities, for budding entrepreneurs at that time. Instead, Neha relied on the guidance of fellow female entrepreneurs whom she had met at various networking events.
It was at one such event that inspiration struck. Upon arrival in Luxembourg, Neha quickly realised that there were no fashion houses or fashion manufacturing units here, and working in retail would have been a challenge due to language limitations. "I needed to figure out something for myself," she said. Then, at a women's networking event, she realised she was not alone; many educated and experienced trailing spouses arrive in Luxembourg but face language barriers or other challenges. Whilst listening to two women share how they had built their own businesses in niche segments, Neha had the idea of becoming a personal stylist. She began by researching the offer and market in Luxembourg and, whilst there were a few other personal stylists, she decided to pursue her goal, first setting up a Facebook page and then a website. She set up StylizedU in the space of about five months.
Initial challenges included trying to sell a very niche product. Neha explained that it was important to create awareness of this service: many people thought personal styling was just for celebrities. Another challenge at that time was the seasonal nature of Luxembourg's market, with summer months proving to be very quiet. This is less of an issue now that StylizedU's client base is more international. Moreover, it was initially a challenge to attract male clients. Today, Neha styles both women and men, although she is still working on increasing the visibility of her services among the latter.
Regarding her services, she explained: "The idea is to give you tools so that you are empowered to do this for the rest of your life." She added that it is an investment that "saves people a lot of money in the long term."
Business & market evolution
In terms of how her business has evolved over the years, Neha noted that in addition to offering more online sessions than previously and to catering also to male clients, "different organisations and corporates have found the need for [this service] as well." Companies enlist her services to help ensure corporate consistency when it comes to workwear, for example: employees in Luxembourg come from different parts of the world and have a different idea of what constitutes formal wear.
In recent years, Neha has also seen many of her clients moving towards sustainability. However, this does not just mean "buying sustainable clothes but also means continuing to wear the clothes that you already have", she explained, emphasising that sustainability is a lifestyle change. She advises her clients not to just throw away their old clothes but to keep them in suitcases while they see if they can maintain this lifestyle.
Neha added that the market has grown in Luxembourg over the past eight and a half years, with the opening of more retail stores and shopping centres. In terms of style, this depends on the retail offering as well as on an individual's personal preferences and lifestyle. Basic styles and colours will always be on offer because they are most likely to sell but, as Neha noted, a number of shops selling handmade or more colourful clothing and accessories have popped up in recent years and are surviving because there is a market for such products.
Advice for budding entrepreneurs
Neha emphasised that it was important for budding entrepreneurs to obtain the relevant training certificates and qualifications. She recalled that certain diplomas may not be automatically recognised in different countries and one may need to take an extra test or course. She also encouraged budding entrepreneurs to talk about their idea with potential clients and to consider their feedback. Neha stressed the need to calculate one's working capital and potential startup costs, and recommended networking to reach more potential clients and to raise awareness of one's brand or business. She also emphasised the importance of social media. For women, in particular, she recommended asking others for help rather than trying to go it alone.
Staying warm & fashionable
Amid the ongoing energy crisis paired with dropping temperatures, Neha shared her tips (for both women and men) for keeping warm and fashionable this winter, whilst keeping costs down. She recalled that office and school buildings, among others, in Luxembourg have already reduced temperatures and people are trying to cut down their energy consumption and related costs at home.
Neha recalled the energy-intensive nature of the fashion industry as a whole (fabrics like cotton and linen require a lot of water consumption, for example) and stressed that it was important to accept that clothing prices will rise amid the current crisis. In order to stay warm and keep costs down, she recommended wearing fabrics that better retain heat, such as wool or cashmere - the latter is more expensive but "the warmth is unmatchable". She also recommended wearing a T-shirt underneath cashmere clothing to avoid getting sweat directly on the fabric, thus allowing one to wear the item more often before washing and in turn "increas[ing] the life of the garment". Wearing layers is always a good idea, so wearing cotton T-shirts or vests close to one's body (avoiding wool or polyester which can be itchy when worn directly on the skin) is one possibility. Neha also recommended wearing tights (minimum 40 denier (thickness)) underneath one's trousers to keep the heat close to the body. Other tips include wearing high-neck tops and turtle necks instead of crew necks, knee-high socks instead of ankle socks, and wearing fluffy slippers at home.