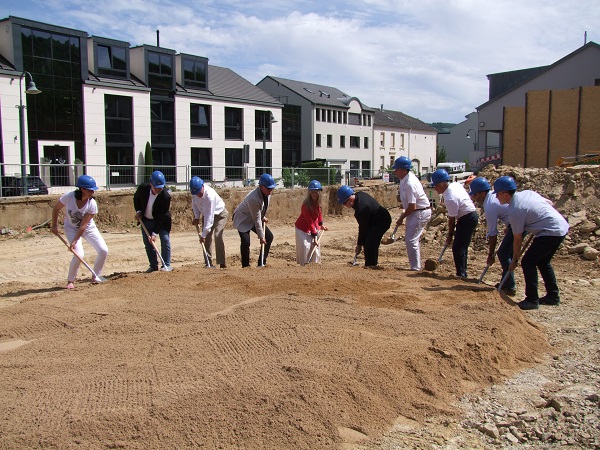 Rolf Sorg of PM-International (4th from left) leads the ground-breaking ceremony for a new building; Credit: Chronicle.lu
On Wednesday 13 July 2022, PM-International held a ground-breaking ceremony in Schengen for their new €10 million administrative building, in the presence of company management, staff, family and friends, as well as municipal representatives.
In glorious afternoon sunshine on the banks of the river Moselle, Rolf Sorg, founder and CEO of PM-International, welcomed the invited guests, colleagues, family and friends, and presented a brief history of the company. With its origins in Germany, it set up its international headquarters in Luxembourg in 1989, originally in Remich and then Bonnevoie, before moving to a purpose-built building in Schengen in 2015: while initially occupied by just 23 people, those premises currently hold 123 people (they were designed to hold a capacity of 70) speaking no less than 30 languages between them. The new administrative building, located on a large plot directly across the road from the international headquarters, will have capacity for 85 staff; there will also be possibility for further expansion if needed in the future.
Rolf Sorg explained that while Luxembourg is the international headquarters of the company, is also has its Asian headquarters in Singapore, its European headquarters in Germany (together with its European logistics centre where 300+ staff are based) and its US headquarters in Florida. The international headquarters in Luxembourg is where its governance is overseen, covering administration, marketing and more. In addition, it has a collaboration with the Luxembourg Institute of Science and Technology (LIST) where new products are researched and designed.
He explained that the €10 million budget is already above initial expectations, explaining that this has primarily been due to the cost of levelling the site. It has taken three years to get to this stage; they expect the building to be fully operational before the end of 2023.
In addition to representatives from the American Chamber of Commerce in Luxembourg (AMCHAM), LIST, the Ministry of the Economy, the Luxembourg Chamber of Commerce and the German Embassy, representatives from the construction companies and the local wine industry, the mayors of Perl, Mondorf and Schengen were also in attendance, with the latter, Michel Gloden, stating that he was very proud that PM-International is located in Schengen and decided to expand there; he confirmed that the company is the largest employer in the municipality and stressed the importance of this for "nation branding".