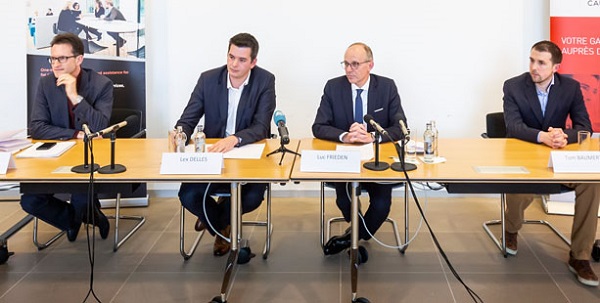 L-R: Carlo Thelen, managing director of Chamber of Commerce; Lex Delles, Minister for Small and Medium-Sized Enterprises; Luc Frieden, President of Chamber of Commerce; Tom Baumert, CEO of House of Entrepreneurship; Credit: Chamber of Commerce
On Friday afternoon, the General Directorate for Small and Medium-Sized Enterprises of Luxembourg's Ministry of the Economy and the House of Entrepreneurship of the Chamber of Commerce held a press conference presenting a new package of support measures for companies facing difficulties resulting from the coronavirus pandemic.
The conference was held in the presence of Lex Delles, Luxembourg's Minister for Small and Medium-Sized Enterprises, and representatives of the Chamber of Commerce / House of Entrepreneurship, in the latter's premises in Luxembourg-Kirchberg.
On this occasion, Chamber of Commerce President Luc Frieden began by referring to two other such crises experienced in his lifetime: 9/11 and the financial crisis of 2008. He stressed that both cases had required European and international measures to support the private sector. In this regard, he added that the Chamber of Commerce, which supports 90,000 companies in Luxembourg, and the State were working together, particularly with banks and the national hotel and catering federation HORESCA, to support impacted businesses at this time.
Luc Frieden then presented its new "mutuality guarantee", one of the concrete measures aimed at supporting companies with loans from banks. In this context, companies may each request a loan of up to €250,000 per deposit with a deposit of up to 50% of credit. The companies should receive a response within 24 hours. Luc Frieden referred to this measure as "pragmatic, fast and efficient".
Companies wishing to take advantage of this guarantee will have to request it directly from their bank, which will decide on the release of the credit. The Chamber of Commerce is in contact with the banks to organise the provision of this new service.
The Chamber of Commerce President added that the House of Entrepreneurship was setting up a helpline and email contact for companies. These contact points, aimed at answering companies' questions while minimising physical contact will be available from Monday 16 July 2020 (working days from 09:00-12:00 and from 14:00-17:00) via tel.: 423-939445 and email: covid19@houseofentrepreneurship.lu. The helpline and email address are for questions related to companies, such as partial unemployment and state and public aid. The new helpline is not intended to answer health-related questions, which remain the responsibility of the health authorities.
Although Luc Frieden expressed confidence that, by working together, the situation can be resolved, he added that this would depend on the duration of the crisis. Indeed, this is currently the "first phase" of the crisis.
For his part, Minister Lex Delles summarised the recently approved bill providing additional financial support to SMEs. He added that the Eurogroup would be meeting on Monday to discuss a European approach to the situation for the sector. Similarly, Luxembourg's authorities will continue to follow developments and decisions taken in neighbouring countries.
Nevertheless, Minister Delles particularly recognised the strain this pandemic is placing on travel agencies.
Luc Frieden recalled that the most important thing any company can do at the moment is follow the health authorities' recommendations. He added that it was too early to know the exact economic impact of the crisis on companies in the sector.
Lex Delles added that now was not the time to panic but that the authorities understood companies' concerns and will engage in regular discussions to keep those affected up-to-date. Despite the difficult situation facing SMEs, Minister Delles concluded that he was confident that they could overcome this difficult time: "We are aware that the SMEs sector, the backbone of the Luxembourg economy, faces a major challenge. I am convinced that thanks to close and regular contact with private sector players, we will jointly find the adequate and necessary solutions in this extraordinary period".
Although the Chamber of Commerce will no longer hold face-to-face meetings, it has confirmed that it will be increasing staff numbers to answer incoming emails and phone calls.