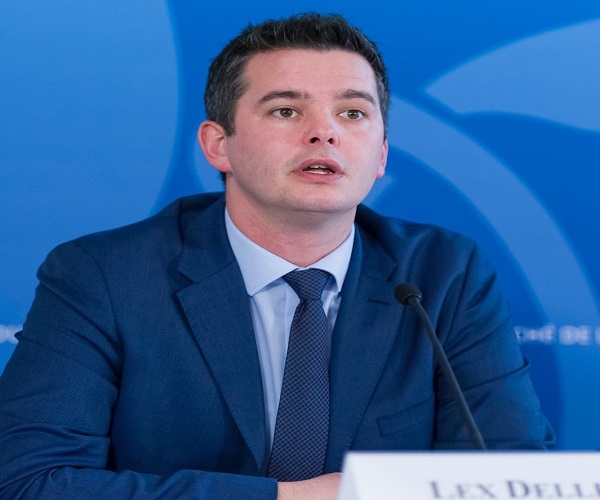 Lex Delles, Luxembourg's Minister for Small and Medium-Sized Enterprises, Minister for Tourism; Credit: SIP / Jean-Christophe Verhaegen
At its meeting on Wednesday, the Luxembourg Cabinet adopted a bill introducing a new financial aid scheme to support small and medium-sized enterprises (SMEs) affected by exceptional and unforeseeable events, such as the current coronavirus threat.
Following the cabinet meeting, Luxembourg's Minister for Small and Medium-Sized Enterprises and Tourism Minister Lex Delles and Economy Minister Franz Fayot presented the bill in more detail at a press conference.
Indeed, the bill introduces a financial aid scheme aimed at complementing existing aid measures to support SMEs, which find themselves in temporary financial difficulty following the repercussions of an exceptional and unforeseeable event of national or international scope. The granting of aid is subject to three conditions, namely that an event has been recognised as having a harmful impact on the economic activity of certain undertakings during a given period, that the company is experiencing temporary financial difficulties and that there is a causal link between these difficulties and the event in question.
To illustrate, acts of terrorism, volcano eruptions or epidemics like the coronavirus may fall under the definition of an exceptional event. In such cases, SMEs experience more liquidity difficulties than large companies following an event that causes, for example, large supply disruptions or reservation cancellations. The costs eligible under the new aid scheme are limited to the loss of income observed. The aid will take the form of a repayable advance.
Commenting on this bill, Lex Delles stressed that "small and medium-sized enterprises (SMEs) are going through a difficult economic period. To support them, we have adopted a new bill establishing an aid scheme for SMEs that find themselves in temporary financial difficulty. With this new measure, we will be able to provide more targeted assistance to SMEs, which play a driving role for the Luxembourg economy".
Franz Fayot added: "The new aid scheme complements and fits perfectly into the wide range of financial assistance already offered by the Ministry of the Economy to companies established in Luxembourg, including in particular the partial unemployment scheme aimed at maintaining employment and, therefore, in order to avoid redundancies in companies which are currently suffering from the negative economic impact linked to the spread of coronavirus".
For up-to-date general information on the coronavirus epidemic, the public can consult the FAQ on www.gouvernement.lu/coronavirus. The site has been updated to include a section intended for the hotel and restaurant (Horeca) sector in particular. Available in French, the content will eventually also be available in English, German, Portuguese and Luxembourgish.