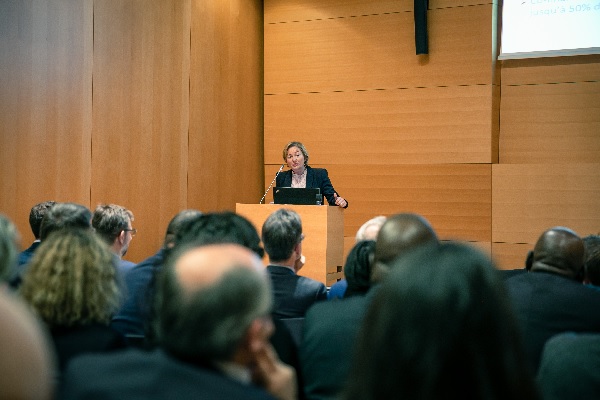 Paulette Lenert, Minister of Cooperation and Humanitarian Action; Credit: Luxembourg Chamber of Commerce
Thursday saw some 100 stakeholders attend a conference dedicated to the 2019 edition of the Business Partnership Facility (BPF), launched by the Luxembourg Ministry of Cooperation.
Organised by Paulette Lenert, Minister for Cooperation and Humanitarian Action, and Carlo Thelen, General Manager of the Luxembourg Chamber of Commerce, the event brought together about a hundred stakeholders, most of them companies, in the Chamber's premises. Participants had the opportunity to hear the testimonials of three companies that have already benefited from this facility and to ask them questions.
Initiated in April 2016 by the Ministry of Foreign and European Affairs in partnership with the Chamber of Commerce and the Ministry of the Economy, the GMP is a facility with an annual budget of €1 million to co-finance private sector initiatives that contribute to development. The targeted sectors are Biohealth, Information and Communication Technologies (ICT), FinTech and Logistics, as well as eco-innovation and circular economy.
The event highlighted the importance of working more closely with the private sector, with the aim of generating a positive social and environmental impact combined with a financial return. The growth of the private sector in developing countries, if well organised, has the potential to create jobs, increase incomes and, consequently, lift people out of poverty.
Representatives of Broadcasting Center Europe, Link2BusinessWorld and LuxMobility, three companies that benefited from GMP in previous editions, shared their respective experiences during a panel discussion moderated by Jeannot Erpelding, International Affairs Director of the Chamber of Commerce.
The call for applications for the 2019 edition of the BPF was launched on 1 March 2019. The deadline for submission of concept notes is 12 April 2019 online at luxdev.lu/en/tenders/bpf.