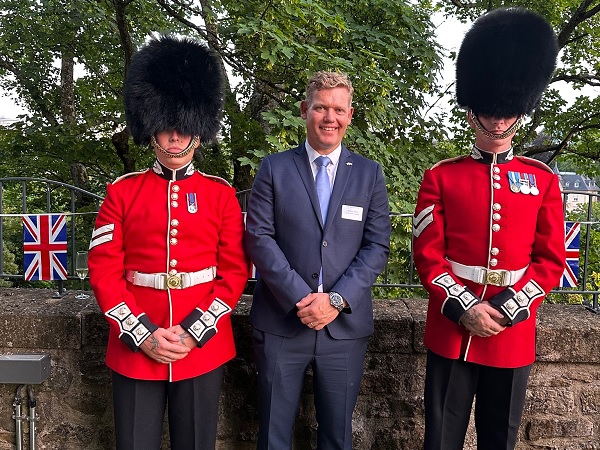 Andrew Notter, BCC Chair, at this week's birthday celebration of King Charles III at the British Ambassador's Residence in Luxembourg-Ville;
On Tuesday 13 June 2023, the British Chamber of Commerce (BCC) in Luxembourg held its 32nd Annual General Meeting (AGM) at the offices of the Maples Group in Luxembourg, followed by a networking reception of drinks and canapés.
During the AGM, elections were held for a new Council for the year ahead. Daniel Eischen was succeeded by Andrew Notter as Chair for the coming year.
The newly-appointed Council 2023 includes:
Andrew Notter (Chair),
Sarah Battey (Vice-Chair),
Claudia Neumeister, (Vice-Chair),
Sara Speed (Vice-Chair),
Arjan Kirthisingha (Financial Secretary),
Christopher Clarke (General Secretary),
Neil Cocker, Stephen Nye, Darren Robinson, Daniel Eischen, Ruth Lau, Christophe Ernzen, Lene Pedersen, Jonathan Norman, Nasir Zubairi (Council members)
Talking with Chronicle.lu, Andrew Notter stated "I am delighted to extend my warmest congratulations to the recently elected Council Members following our Annual General Meeting (AGM). It is with great pleasure that I welcome these esteemed individuals to the leadership team of the BCC. Their efforts will undoubtedly continue to play a pivotal role in advancing the chamber's mission and fostering a conducive environment for the growth and prosperity. I would like to express my sincere gratitude to all the members who actively participated in the AGM, demonstrating their commitment and dedication to the British Chamber of Commerce".