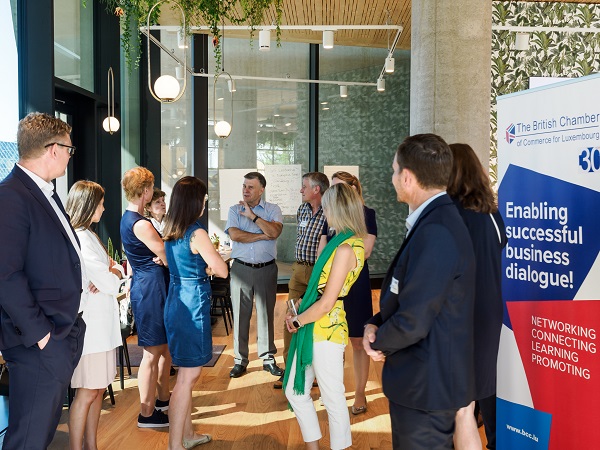 Credit: Ian Sanderson
On the morning of Wednesday 15 June 2022, the People and Leadership Group of the British Chamber of Commerce for Luxembourg (BCC) held an interactive event called "Deep Democracy" at the Breakk, the new premises of Kaempff-Kohler, in Luxembourg-Kirchberg.
This event covered the following topic: "How do you show self-leadership in disruptive times? How do you lead yourself through the stresses and strains of the current world situation?"
The purpose of this interactive event was to encourage the BCC members to guide themselves towards desired goals despite uncertainty. Disclosing one's thoughts, in an informal environment, amongst a circle of acquaintances helped the participants to regain confidence and to adopt the right mindset: rising through these challenging times whilst never underestimating energetic group dynamics.
How exactly does the "Deep Democracy" method work? It has been defined by independent coaches as "a facilitation method for everybody who works with groups or individuals and aims for a greater group dynamic while allowing the participants to intervene actively". The concept is the following: at the outset, one participant makes a statement, mostly related to an idea or a thought on a fixed topic. Following that statement, the other participants reflect on it and, rather than answering directly, they step towards that person whenever they share the same viewpoint, whereas they take a step back if they do not agree with the declared statement.
According to Dr Keith Amoss, Career Coach and Mentor and member of the BCC's People and Leadership Group, using such a method for a breakfast event might sound unusual, but it led to powerful and honest statements, followed by an interactive and positive summary.
The event itself, which included BCC members from different backgrounds, such as real estate developers, lawyers or human resources (HR) recruiters, was deemed a success and for many participants, it was their first time taking part in a deep democracy event.
After a brief welcoming statement made by Andrew Notter, Vice Chair of the BCC, Virginia Anderson of Matrix Consulting walked the participants through the event, building on her experience as a Business / Team Sports Integration Coach and Performance and Development Consultant.
Powerful words and catchphrases were pronounced, namely "opportunity", "resilience" and "happiness", and meaningful topics were discussed. For instance, one participant mentioned that self-improvement and continuous learning are decisive during a career transition, even if the recruiters tend to be less recipient on one's application. The work always starts within oneself and a great amount of the participants present agreed on that point of view. However, one participant came up with an interesting solution: "While recruiters are not always responsive towards applications, or simply reject them without further comments, we should maybe empower our circle of friends by building our own company and hiring more people we know!"
Another topic was the courage to take risks, start a new business and become one's own boss. Participants tended to be more hesitant towards this statement, as the risk seemed tremendous, thus involving mixed feelings.
Moreover, one of the participants raised the following question: "Should every employee in the company share the same values or is diversity the key to success?" One aspect that all participants agreed on while moving closer in the circle was that if a company advertises shared values, it should legitimately implement them in practice and not only on paper. The power of emotions was strongly present on some occasions, which filled the room with various perspectives and insights.
The event ended with greetings from the People and Leadership Group chaired by Lene Pedersen, assisted by, in no specific order, Claudia Neumeister, Keith Amoss, Andrew Notter, Grace Skinkis and Donald Venkatapen. The result was deemed positive as the one thing everyone agreed on was: feeling empowered and less reluctant to listen to others to simplify the adaptation process during these challenging times.