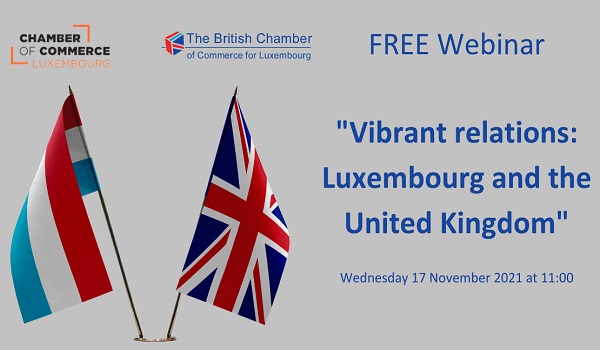 The British Chamber of Commerce (BCC) has teamed up with the Luxembourg Chamber of Commerce to organise a webinar on relations between the United Kingdom and the Grand Duchy on Wednesday 17 November 2021 at 11:00.
This online event, entitled "Vibrant Relations: Luxembourg and the United Kingdom", will highlight the commercial opportunities that exist between these two countries.
Following opening remarks from the British Ambassador to Luxembourg, Fleur Thomas, and the Luxembourg Ambassador to the United Kingdom, Jean Olinger, Stefan van Look, Trade & Investment Adviser at the British Embassy in Luxembourg, and Christophe Brighi, Head of Economic and Commercial Affairs at the Luxembourg Chamber of Commerce, will provide their insights on the opportunities for collaboration, trade and maintaining the longstanding fruitful relationship between the Grand Duchy and the UK.
This will be followed by the perspectives of Chris Hollifield, Head of Business Development at Luxembourg for Finance.
Questions can be submitted in advance of the event via email: info@bcc.lu.
Further information, including free registration details, is available at https://www.bcc.lu/events/upcoming-events/?civiwp=CiviCRM&q=civicrm/event/info&reset=1&id=285.