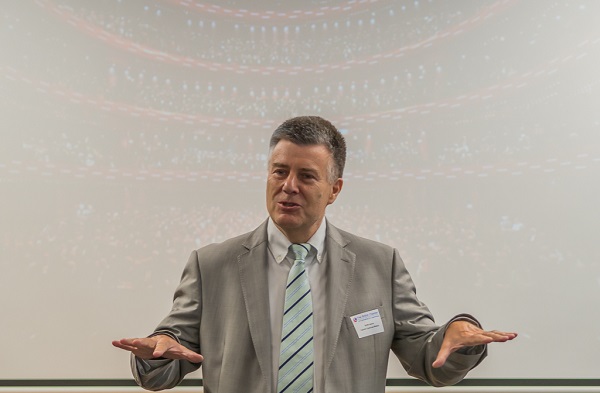 Following on the heels of their first interactive breakfast session "All about You", in March, the British Chamber of Commerce (BCC) People & Leadership Group held a second event on 14 June at the Luxembourg offices of Badenoch & Clark.
The continued theme was The Art & Science of Communication and, in a light-hearted and interactive presentation, business participants were given an insight on what they could possibly observe and learn from others.
The audience of leaders, managers, consultants and various professionals from across Luxembourg noted how others take daily decisions based on what they see and hear. Crucially, they were reminded that we are also judged. Yet perceptions and resulting judgements may differ for a variety of reasons.
Keith Amoss PhD steadily led the audience through the many factors that impinge on judgments, including personality, beliefs and values, culture, experience and background, highlighting: "If we could ever really know another person in his or her totality, we would begin to understand why they act as they do. Yet, regardless, we still make our own judgements on them, and they on us, without that valuable knowledge."
Claudia Neumeister MA took the floor to talk about the "life position" that a person may be in at any particular moment: "These are the basic beliefs about self and others which are used to justify decisions and behaviour" she explained.
Participants enthusiastically engaged during the hour in discussing issues such as perceived unfairness in the workplace – discrimination, bullying, favouritism – in the political arena or even within the family which they had observed.
The general view was that sometimes we may have to act on what we see. Yet we should make any judgements with care. One participant noted that she could learn from observing others that when they act they may be missing essential facts and failing to see the full picture. As such it was important before rushing to judgment to view a situation from another person's perspective. "In that way the communication is likely to be far more effective."
Attendees were active in their participation and, in thanking everyone and closing the event, the Committee Chairperson, Jill Saville MA PCC, said that she greatly looked forward to the third gathering already earmarked for 20 September to be called "All about Us - How Organisational Culture Influences Communication at the Workplace".
Photos by Ian Sanderson