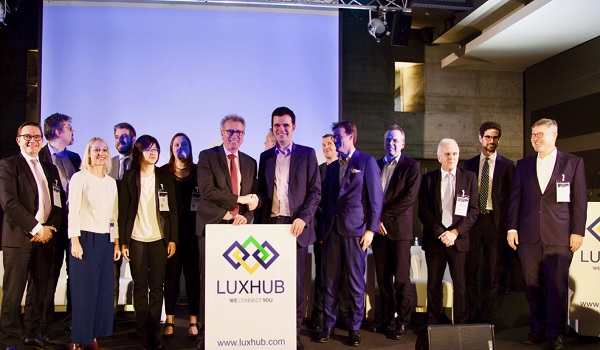 Luxembourg Minister of Finance Pierre Gramegna with other attendees at the launch oft LUXHUB's Marketplace; Credit: LUXHUB
Wednesday evening marked the launch of the new LUXHUB Open Banking Marketplace for digital products in Luxembourg.
In the presence of Luxembourg Minister of Finance Pierre Gramegna, LUXHUB, the European Open Banking API Platform, recently launched its Open Banking Marketplace. There were over 200 attendees at the launch of the platform, which emphasised building trust, improving customer experiences and joining efforts.
Jacques Pütz, CEO of LUXHUB, commented: "Real collaboration requires a leap of faith and this is the key message of our journey in LUXHUB, the power of collaboration and cooperation to the benefit of the whole industry".
The platform aims to revolutionise the way businesses approach and manage financial information. LUXHUB will guide banks through the digital journey and offer a platform connecting Fintechs and financial institutions.
The Developer Portal is now live so Fintechs can reach LUXHUB's Marketplace and develop their next digital products. LUXHUB will publish sandboxes for European banks coming from five different Countries, thus managing access to more than one million payment accounts. The Sandbox allows TPPs to easily use testing against the LUXHUB PSD2 compliance Interface. LUXHUB can thus provide up-to-date technical solutions and new mutualised services in the field of innovation.