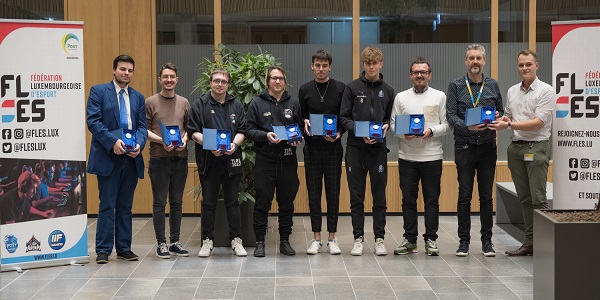 LESA winners; Credit: FLES
The Fédération Luxembourgeoise de l'Esport (FLES; Luxembourg esports federation) has announced the launch of the Luxembourg Esports Awards (LESA), an event rewarding the best esports players in the Grand Duchy in different categories.
The LESA ceremony will be held annually at the end of the year.
As gaming competitions rarely have geographical limits, according to FLES, the goal is to reward the best Luxembourgish sportspeople or those residing in Luxembourg.
In order to launch this new award ceremony, FLES invited seven players to collect their trophies on Friday 24 February 2023, for their achievements in 2022 in the following categories:
Best FIFA 22 Player: Louis "LouisLux8" Trierweiler (White Lion Esports )
Best CLASH ROYAL Player: David "Magic" Gomes (Royal Family)
Best ROCKET LEAGUE Team: Team Lëtzebuerg
Best SMASH BROS. ULTIMATE Player: Nick "Kakpu" Roeser (Team Lëtzebuerg)
Best COD WARZONE Team: Sector 7
Best LEAGUE OF LEGENDS Player: Tim "Tim Shady" Theis (Rift Sloths)
Moreover, the award for the company most involved in esports went to POST Luxembourg, represented on this occasion by Serge Eiffes and Guillaume Wilke.