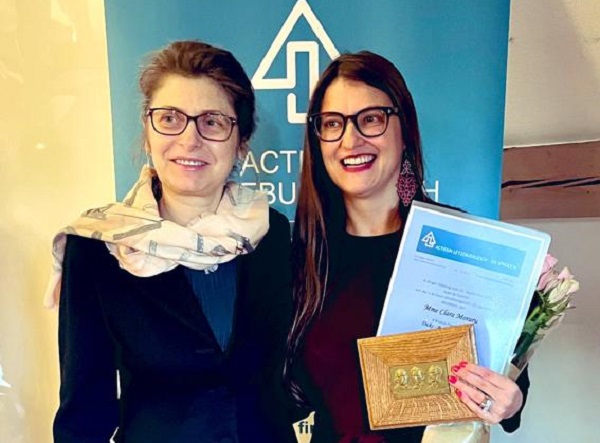 Daniela Clara Moraru (right) pictured with her award and accompanied by the Romanian Ambassador to Luxembourg, Alexandrina-Livia Rusu;
Local entrepreneur Daniela Clara Moraru recently became the first person whose mother tongue is not Luxembourgish to receive the Dicks-Rodange-Lentz distinction, for her commitment to preserving and promoting the Luxembourgish language.
On Saturday 7 January 2023, the non-profit organisation Actioun Lëtzebuergesch - Eis Sprooch asbl awarded Daniela Clara Moraru, who is originally from Romania, the Dicks-Rodange-Lentz bronze plaque during a ceremony at its headquarters in Itzig. Jean Kandel also received the distinction (silver plaque) on Saturday, for his work over the years in preserving Luxembourgish-language songs.
The award dates to 1984 when Pierre Werner received the first plaque for his role in making Luxembourgish the national language of the Grand Duchy.
Daniela Clara Moraru shared her thoughts on receiving the disctinction with Chronicle.lu: "I'm super honoured and super excited because it's such an elite group of people who have received it already." She considered the award, which "came unexpectedly", to be a "thank you" and an "encouragement" to continue her efforts to promote Luxembourgish language learning.
Ms Moraru set up Languages.lu back in 2004, at a time when interactive and innovative learning material for Luxembourgish was lacking. Her language school was the first to market an online Luxembourgish course. "I was always trying to innovate and do new things through the application and materials, so this is really for that," she said. Her main motivations for creating Languages.lu were to create playful Luxembourgish language learning materials and to give something back to her adopted country, particularly after obtaining Luxembourgish nationality in 2015. She decided to use her background and experience in languages and marketing to create something new and "fill the gap" in the market. "It was kind of a gift that I wanted to give to my new country," she said.
As for being the first non-native speaker to receive the distinction, she considered this to be recognition that non-Luxembourgers learning and promoting the Luxembourgish language is essential for its survival. "To keep it alive, it's really important that we collaborate and promote it together with Luxembourgers," she noted, concluding: "I think the award is quite symbolic, because it really shows the importance of non-Luxembourgers in the [continued] existence of this language."