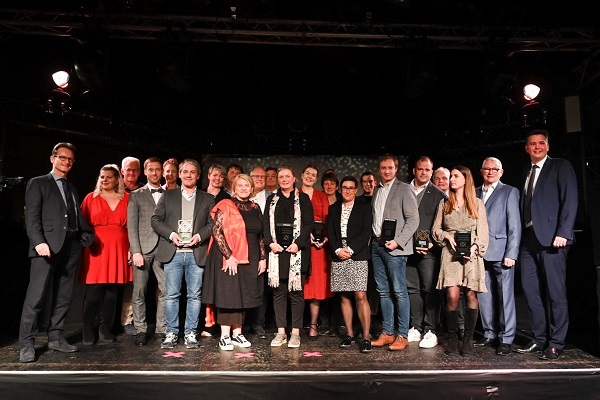 Credit: Marie De Decker
On Thursday 14 October 2021, Luxembourg's Minister for Tourism, Lex Delles, presented the Luxembourg Tourism Awards at Den Atelier.
With this prize, the General Directorate for Tourism rewarded players in the sector who have distinguished themselves through innovative projects, implemented between 2018 and 2020, and which have thus contributed to diversifying the tourism offer.
The winners of the Luxembourg Tourism Awards were:
"Hotel" category: Hôtel Graace. Made with sustainable and ecological methods and materials, Hotel Graace retains the soul and industrial character of the original site founded by the Graas brothers;
"Campsite" category: Camping Park Beaufort. Three small and four large wooden teepees were built at Camping Park Beaufort in 2018. Unique in Luxembourg, the teepees are aimed at various target groups: couples, families, groups and school classes respectively;
"Bed & Breakfast, youth hostel" category: Escher Bamhaiser. These guest houses are perched in trees and nestled in the heart of the Escher Déierepark (animal park) in Esch-sur-Alzette. The Escher Bamhaiser ("Esch treehouses") offer a unique overnight stay in nature;
"Infrastructure" category: recreation centre at Lake Echternach. With the extension of leisure activities and other sporting attractions, this recreation centre attracts many visitors (residents and tourists) alike to the Mullerthal region;
"Tourist service" category: Escher Déierepark. The animal park of the city of Esch-sur-Alzette, which covers an area of ​​two hectares, is home to around 150 animals. Reimagined and redeveloped, the Escher Déierepark meets the needs of tourists and residents, particularly through play and discovery areas as well as an educational farm;
"Gastronomic offer" category: Hôtel-Restaurant Airfield. This establishment, which opened in 1947, offers an authentic setting that combines the industrial charm of the site with the modernity of a restaurant and hotel. After being completely redesigned in 2017, the establishment reopened in 2018;
"Digital offer" category: Sightseeing.lu. This new smartphone application, which features more than 120 tourist sites, offers a way to digitalise guided tours in Luxembourg and to carry them out independently;
"Deserving municipality" category: Esch-sur-Alzette. Following the decline of the steel industry, the city of Esch-sur-Alzette has reinvented itself, in particular by focusing on innovative tourism projects, such as the "Escher Bamhaiser" and the new youth hostel;
Coup de cœur du public (public's favourite): Explore.lu. Georges Krack, the agricultural engineer behind Explore.lu, invites visitors to explore Luxembourg in his mini-bus during tours adapted to customer demand. The promotion of Luxembourg Moselle wines and crémants through various tastings is part of the standard programme.
"[T]he winners of the 'Luxembourg Tourism Awards' have all shown dynamism, passion, creativity and an exceptional entrepreneurial spirit", commented Tourism Minister Lex Delles. "However, the General Directorate for Tourism wishes not only to reward players who have distinguished themselves through extraordinary projects, but also encourage the sector as a whole to continue to diversify its tourism offer. I would like to salute the evolution of our offer, I appreciate the efforts made by the players in the sector and I encourage them to continue on this path".