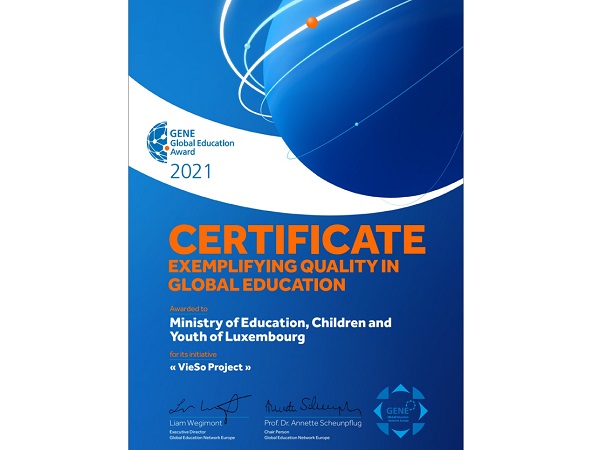 GENE "Certificate Exemplifying Quality in Global Education"; Credit: GENE / MENEJ
The Global Education Network Europe (GENE), which brings together ministries and agencies working in the field of global education, has awarded a certificate of good practice to Luxembourg's Ministry of Education, Children and Youth for the introduction of the course "Vie et société" (life and society) in schools in the Grand Duchy.
With this "Certificate Exemplifying Quality in Global Education", the European network recognised the quality and exemplary nature of this Luxembourg initiative, as well as its educational approach and the participatory dimension of the course. The initiative is featured in the GENE Award 2021 Compendium of Quality in GE, which identifies good practices from which all the partner countries of the network can draw inspiration.
Education can be considered "global" when eyes and minds are open to the realities of our contemporary world where issues of justice and equity remain topical. As such, according to the Education Ministry, the course "Vie et société - Leben und Gesellschaft" (VieSo), is an opportunity given to students of all ages to develop their personal, social and political points of view and their independent thinking to become responsible citizens.
"VieSo" has replaced the religious and moral instruction course and moral and social training since the start of the 2016-17 school year in secondary education and since 2017-18 in primary education. It aims to offer all children and young people a common course that will help them build their own identities while respecting those of others.
Luxembourg's Minister of Education, Children and Youth, Claude Meisch, commented: "This European distinction is an important recognition which proves that the course 'Vie et société' fulfils its mission. Faced with the increasingly diverse cultural origins of our pupils, just like the religious or philosophical convictions of the families, we must take up a real challenge of social cohesion. The common course of Vie et société provides an essential space for dialogue, where living together is built and where respect for differences is learned in practice, in exchange".