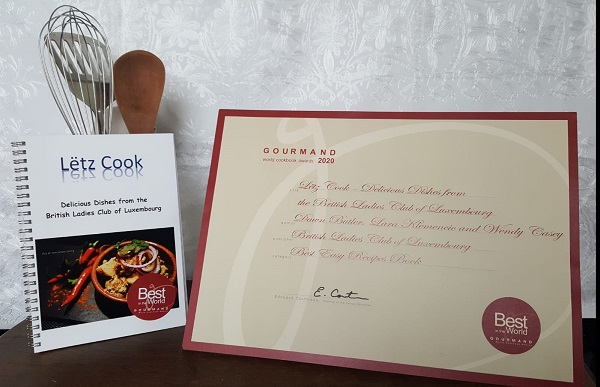 Credit: BLC
The British Ladies Club (BLC) in Luxembourg has announced that its charity cookbook "Lëtz Cook" has won an award and is up for a Best in the World award at the Gourmand World Cookbook Awards at the end of the year.
"Lëtz Cook - Delicious Dishes from the British Ladies Club of Luxembourg" has been recognised by the Gourmand World Cookbook Awards 2020. The charity cookbook has won the Best Easy Recipes Book category in Luxembourg and will be participating in the world finals at the end of the year.
Lëtz Cook was published in December 2020 and compiled the recipes of BLC members, friends and the local community to raise money for the club's charities. The compact 250-page book contained a foreword by the British Ambassador to Luxembourg, John Marshall, and was illustrated by Wendy Winn. Many of the recipes were accompanied by personal tales and insights and the book sold out within a month of its release.
Dawn Butler, Lara Klemencic and Wendy Casey are the three proud authors. "I am so excited!" exclaimed Dawn Butler, who was initially contacted by Edouard Cointreau, President and Founder of the awards, and invited to submit Lëtz Cook for consideration. "We are now in the running for a Best in World placement," she continued. "It just goes to show that when you put heart and soul into a project, it does not go unnoticed".