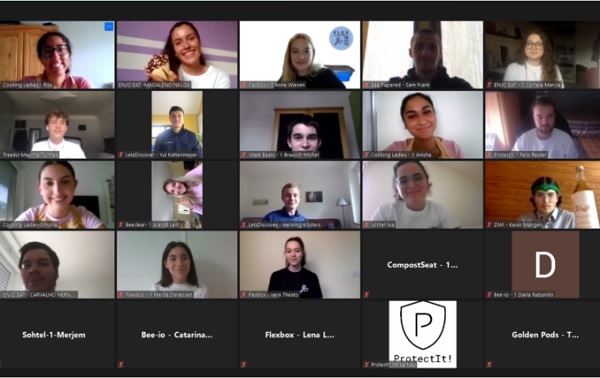 On Thursday 11 June 2020, a total of 17 finalists prosented their projects at the 19th edition of the Mini-Companies Forum (Forum des Mini-Entreprises) which was held digitally.
The Mini-Companies Forum is organised by Jonk Entrepreneuren in Luxembourg and promotes the entrepreneurial spirit of secondary school students in both general and classical streams. For one year, students are responsible for a Mini-Company in which they are called upon to make decisions and take responsibility for them. Mini-companies aim to stimulate the emergence of an entrepreneurial culture among young people by making them discover the different aspects of the life of a company from the constituent general assembly until its dissolution. this year, a total of 82 teams, representing more than 750 students and 57 teachers from 23 secondary schools, enrolled in the programme at the start of the school year
Around 300 people followed the online event in which each Mini-Company had 4 minutes to present their project, product or service, the knowledge acquired during this year and what the students learned from this experience.
Patrick Wies, the new chairman of the board of directors of Jonk Entrepreneuren Luxembourg asbl, underlined the importance for the asbl to carry out this MiniEntreprises final, to set an example and to transmit a positive message, despite the current context. He stated "Congratulations to all of these young people who have adapted to the conditions, who have been resilient and who have proven that they have developed entrepreneurial skills by finding new solutions."
Claude Meisch, Luxembourg's Minister of National Education, Children and Youth spoke to young people via a pre-recorded message. Minister Meisch noted that many Mini-Companies were able to adapt their strategies to the economic reality that was turned upside down and congratulated the young people for their work throughout this entrepreneurial year.
Lex Delles, Minister of Middle Classes, spoke directly and congratulated the Mini-Companies for the inclusion of environmental considerations in their projects. He also highlighted the tremendous learning and lessons that these young people have learned from this programme. He stated "Entrepreneurship is important in times of crisis because it brings new opportunities to reinvent yourself."

"Frëschkëscht" voted best Mini-Company 2019-2020
"Frëschkëscht" of the Lycée Robert Schuman won the prize for the best Mini-company of the year, sponsored by BGL BNP Paribas, and was appointed as Luxembourg representative at the "JA European Company of the Year Competition" which will take place from 22 - 24 July 2020 digitally. This European Mini-Enterprise competition brings together the different European member countries of the network to designate the best European Mini-Enterprise of the year.
"Frëschkëscht" is made up of 7 students: Ivo Silva, Julien Clusserath, Gilles Heinesch, Teo Castellvi, Diogo Marques, Gaïa Costadura and Clémentine Offner. The students wanted to create a product that would take into account the environmental aspect. They created a box they called "FrëschKëscht", in which their future customers find fresh and seasonal products every week from Luxembourg producers. The teachers of this Mini-company were Mireille Lux and Françoise Thomé with Christian Gutenkauf as coach.
2nd prize was awarded to "Protect It" of the Lycée Robert Schuman with its team comprising Aida Bjelic, Mika Ney, Lia De Roy, Isabelle Resch, Felix Reuter and Laura Biagi. The students produced an adapter that protects smartphone charging cables. Their product is produced using a 3D printer. The teachers of this Mini-company were Mireille Lux and Françoise Thomé, with Michel Welter as coach.
3rd prize went to the Lycée Michel Lucius "Sohtel" team made up of Lisa Pesole, Philippe Nunes, Laura Arend, Daniel Fernandes, Sabrina Torres, João Gomes and Quynh Han Lien. The students collected and recycled solid hand soaps from hotels for disposal. They give them a second life by transforming them into fluorescent soap pencils. The teachers of this Mini-enterprise were Fabienne Kieffer and Gilles Kuffer with Mr. Science as coach.
Leadership Awards
For this 19th edition, the Alumni committee conducted interviews with leaders of Mini-companies and awarded the Leadership Award to three students: Léon Majerus from the Mini-company "Tree4U", Jules Terrens from the Mini-company "LëtzDiscover" and Angelo Locatelli from "Golden Pods".