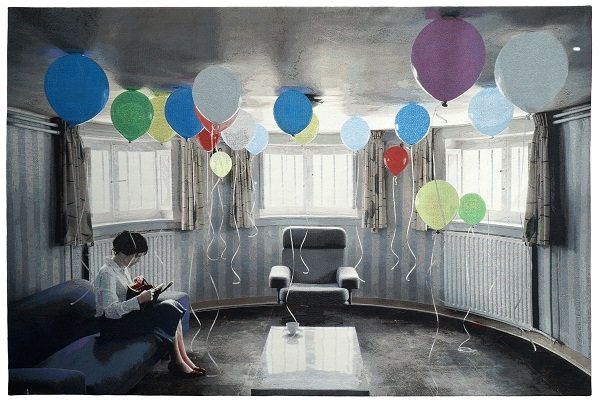 Winning artwork "Vervlogen"; Credit: Jenny Ymker
The 5th Luxembourg Art Prize, an international prize for the emerging artist of the year, was held at the private museum "Pinacothèque", in the presence of the Ambassador of France to Luxembourg, Bruno Perdu, and the Ambassador of Japan to Luxembourg, Shigeji Suzuki.
This year again, the crowd discovered the works of the eleven finalist artists from all over the world: Australia, Austria, Belgium, Canada, Democratic Republic of Congo, the United Kingdom, the United States, France, Italy, Japan and the Netherlands. Jenny Ymker, a 50-year-old Dutch artist living in Tilburg (the Netherlands) won the jury's preference, securing a €50,000 scholarship offered by the Pinacothèque.
Since 2013, Jenny Ymker's work has mainly consisted of photos that she has woven into what she terms "Gobelins". Originally, the term "Gobelin" was reserved for tapestries that were woven in the "Manufacture des Gobelins" in Paris. Today, it is used as a general reference to woven tapestries. According to the artist, she opted for the word both because she "likes the sound" of it, and because it has a historical background; indeed, Gobelins were initially used as insulation for the cold inner walls of castles, although their ornamental function soon became important, as well.
Jenny uses the modern form of this ancient weaving technique to represent today's stories. She tries not to be too literal in her work to allow spectators some space to discover their own stories. One theme in her work is alienation. The artist consciously chooses dresses, bags and shoes from the past to reinforce the feeling of alienation from the environment. This also informed her decision to have the photo woven instead of printed.
In all her works, Jenny herself is the model. As well as being a practical choice, this is also an essential part of the creation process for the artist: to create a certain "world" and be part of that world herself at that moment. Once she is happy with the photo, Jenny has it turned into a weaving pattern. Together with the weaver, she chooses the colours of wool and cotton. Next, a couple of samples are woven. In the basis of these samples, the artist can still make changes and adjustments, after which the finished Gobelin is woven.
The painting presented during the group exhibition of the Luxembourg Art Prize 2019 is a woven tapestry combining wool and cotton, entitled "Vervlogen" ("Bygone", 193 x 291 cm, 2018). It depicts a woman, dressed soberly, sitting on a couch, eyes immersed in her purse. Colourful balloons float on the ceiling. It looks as though a party is about to start, although a cup and saucer are the only objects placed on the table. What is she looking for, alone, in this dimly lit room? Is the party for her alone or has no one else come?