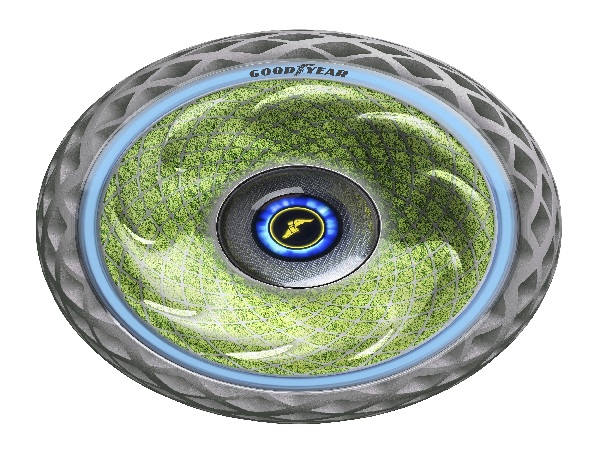 Oxygene concept tyre; Credit: Goodyear
Goodyear has won in the "Frame, Body and Exterior" category of the AutomotiveInnovations Awards 2019 with its "Oxygene" concept tyre.
For this year's edition of the awards, which are a joint disctinction of the Center of Automotive Management (CAM) and PwC, the CAM systematically evaluated, based on quantitative and qualitative criteria, a total of 1,329 innovations from 30 international automobile groups with some 90 brands. With its futuristic photosynthetic tyre "Oxygen" and Goodyear's vision for a clean mobility solution in the cities of tomorrow, the high-level jury chose the international tyre manufacturer in the category of ""Frame, Body and Exterior" suppliers.
Jürgen Titz, CEO of D-A-CH at Goodyear, accepted the prestigious award at the award ceremony, stating: "We are delighted to receive this award! For us, tyres are much more than round and black. As the only physical interface of the vehicle with the road, they will play an important role in the mobile world of tomorrow, based on connectivity and information exchange. This award recognises the innovative strength of our company and I want to thank the entire Goodyear team for their outstanding performance!"
The highlight of the "Oxygene" concept tyre developed in Colmar-Berg is that real foam grows in its side wall. This element is supposed to help clean the air in the cities of tomorrow. To do this, Oxygene has an open tread structure that absorbs road water and provides moisture to the foam. Oxygen is produced by photosynthesis.
Sébastien Fontaine, industrial designer at the Goodyear Innovation Centre in Luxembourg, has calculated: "If about 2.5 million cars in a city like Paris were equipped with this tyre, about 3,000 tonnes of oxygen would be produced and 4,000 tonnes of carbon dioxide converted each year".