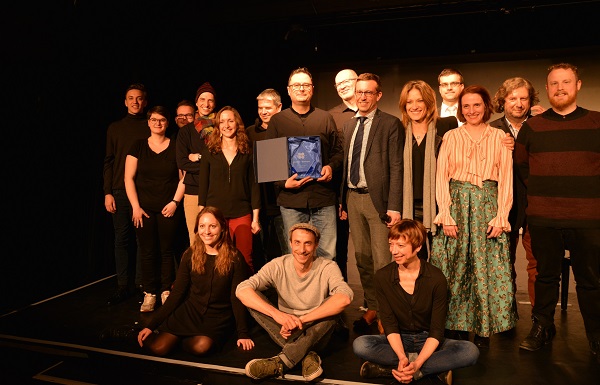 Quattro Pole group photo; Credit: Bjorn Gutheil Klein
Following an evening of concerts on Friday 5 April in Trier, the jury of the QuattroPole Music Prize rewarded the composer Hervé Birolini for the interpretation of his work "Exartikulations".
Supported by the cities of Luxembourg, Metz, Saarbrücken and Trier, the first edition of the QuattroPole Music Prize is the result of close collaboration between the cultural services of the four cities and the General Secretariat of QuattroPole. Since February 2018, the organisation of the event has been conducted in cooperation with four music programmers, who have shared their expertise and have been an asset for its realisation.
Four musicians from each city of QuattroPole interpreted their creation at the Tuchfabrik Cultural and Communication Centre (TUFA) in Trier, in front of an audience of 120 people from across the Greater Region. These musical projects, selected for their innovation and originality, showcased great diversity: from the acoustic walk to the 30-second opera, sound and light installations, the finalists presented innovative and contemporary works, representing the excellence of the musical scenes of the cities of QuattroPole.
In the presence of many music lovers from the four cities, Wolfram Leibe, Mayor of Trier and President of QuattroPole, opened the evening of concerts. After the performances of the four musicians, Thomas Schmitt, Deputy Mayor of Trier in charge of Culture and President of the Jury, named Hervé Birolini the winner of the 2019 QuattroPole Music Prize.
Hervé Birolini competed alongside three other finalists: Luxembourg's Catherine Kontz presented her London walk "Fleet Footing", Alexander Reiff from Trier performed his 30-second opera "Pictures at an Instabition" and Florian Schwamborn of Saarbrücken ended the evening with his musical project "Spiegelung".
Among the 54 nominations received, including sixteen pre-selected, eight music experts debated the finalists and the winner of the prize. These experts were: Matthew Studdert-Kennedy, artistic director at the Luxembourg Philharmonie and Philharmonic Orchestra; Yves Stephany, head of music writing at Radio 100.7 in Luxembourg; Patrick Perrin, programmer of current music at the Cité musicale-Metz; Cascadeur, musician from Metz; Stefan Zintel, head of recording studio at the School of Fine Arts of Saarland; Gary Berger, head of the Studio for Experimental and Electronic Music at the Saarbrücken Hochschule für Musik; Falk Grieffenhagen, member of the world-famous KRAFTWERK group; Thomas Rath and Bernd Bleffert, Artistic Directors of the OPENING International Festival of Sound Arts in Trier.