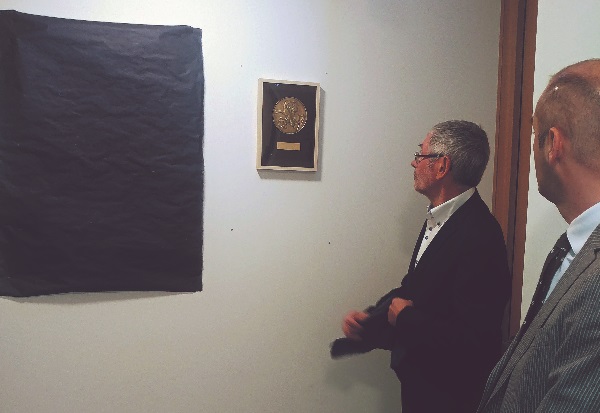 Credit: Fondation Autisme Luxembourg
On Thursday 21 March 2019, the Instituto Shields di San Martino awarded posthumously its bronze shield to Gil Huyberechts, former president of the Fondation Autisme Luxembourg, for his commitment to people with autism.
The purpose of this prize is to give an impetus to acts of human solidarity through the awarding of prizes to all those who have distinguished themselves by their gestures of human solidarity and to identify the necessities to be sent wherever needed in case of disasters.
Present at this awards ceremony were representatives of the Fondation Autisme Luxembourg, including President Claude Schmit, as well as Mirko Costa, 2nd Secretary General of the Italian Embassy and Fabienne Becker, widow of Gil Huyberechts. Together they praised the work done by Gil Huyberechts by underlining his unwavering commitment to advancing the cause of autism at both the Luxembourg and European level and thanked the Istituto Shields di San Martino for this distinction.
Former president of the Foundation, Gil Huyberechts was an inspiration in advocating for the rights of people with disabilities who have complex needs, especially those with autism spectrum disorders. He was a forerunner in this area by designing the first suitable living place for people with autism in Munshausen. To make this model living space, consisting of three homes each for six residents, he and many other parents in Luxembourg visited many homes in Europe. He then conceived this first centre by respecting the criteria of excellence retained during this tour of Europe.
The architecture of the living space "Gil Huyberechts" in Rambrouch was later designed based on the experience of Munshausen, inaugurated in 2002. The accommodations where a few tens of residents were piled up in large rooms have fortunately no longer been popular since the end of the 20th century. These are now small living units on a human scale that welcome people with disabilities.
For those who wish to support the work of the Fondation Autisme Luxembourg, please donate to the account BCCEE LU82 0019 1300 0445 5000.