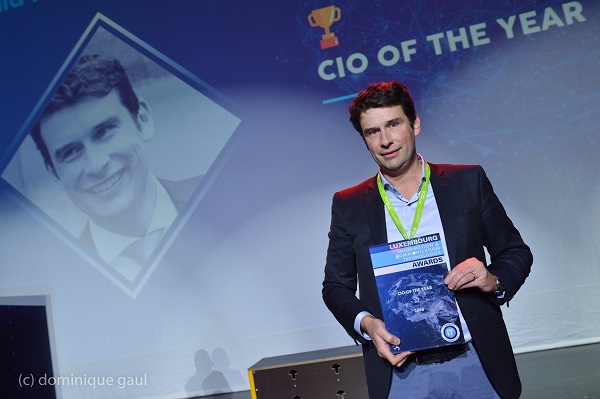 Luxembourg ICT Awards 2018: CIO of the Year, Olivier Beaujean, CIO of IEE;
On Tuesday 4 December 2018, almost 1,000 professionals in the ICT and Digital sector gathered at the Casino 2000 in Mondorf-les-Bains for the 12th edition of the IT One Gala, which mixes conferences and expert discussions, startup pitch sessions and the Luxembourg ICT Awards ceremony.
After presentations by Emmanuel Viale (Managing Director, Accenture France) and Anush Manukyan (Doctoralist specialised in IA and Robotics at the University of Luxembourg), articulated around the theme of Artificial Intelligence and its growing impact on IT departments, companies and society in general, other experts answered questions from Hocine Berrane (CIO, CALI Europe) at a round table on AI anatomy.
The participants included Florence Guthfreund-Roland (Court Counsel, Partner, DLA Piper), Arnaud Misset (Chief Digital Officer & Member of the Executive Committee, CACEIS), Frédéric Hosotte Seillier (Head of Customer Experience and Digital Transformation, Swiss Life France) and Anne-Charlotte Cornut (Rapporteur of the Villani Mission on IA and Head of Mission Special Operations Directorate at MNH Group). Then, the Data & Data, EmailTree, IDETA and EarthLab startups followed one another on stage to present their innovative solutions, with a session led by Fabrice Marsella (Mayor of the Village by CA).
Following the votes of 50 Luxembourg CIOs, the awards were given to companies and experts, rewarding the best local solutions and best practices.
Luxembourg ICT Awards 2018 Winners
• IT Security Provider of the Year: Excellium Services
• IT Development Company of the Year: Ainos
• Cloud Innovation of the Year: Telindus
• Managed Services of the Year: EBRC
• Telecom Provider of the Year: POST
• Startup of the Year: LUXHUB
• Outstanding Contribution to Luxembourg: PwC Luxembourg
• ICT Training Company of the Year: Orsys
• ICT Strategic Advisor of the Year: KPMG Luxembourg
• ICT Company of the Year: System Solutions
• Great Company to Work with: ANIDRIS
• Lifetime Career Award: Yves Baguet, COO of BIL
• ICT Team of the Year: BIL
• CIO of the Year: Olivier Beaujean, CIO of IEE