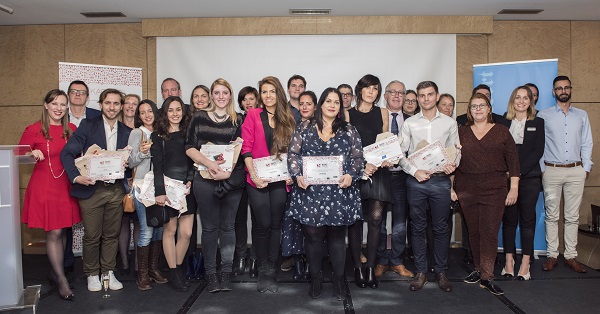 Wednesday 25 October 2017 was the big day, when the winners of the first ever BLOG AWARD for Luxembourg were finally announced during a festive ceremony at the Hotel Le Royal in Luxemourg-ville.
The event was initiated and organised by KACHEN Magazine, Luxembourg's only food- & lifestyle-magazine.
A total of eight bloggers were rewarded by a professional jury and by a public vote. The jury was composed of experts and well-known personalities such as: France Clarinval (Editor-in-chief, Explorator, Maison Moderne), Anne Faber (Professional blogger, Anne's Kitchen), Anne Fourney (Journalist, Luxemburger Wort), Jan Glas (Designer, Glas Jan – Design management & strategy), Cathy Leesch (Marketing, Cactus), Myléna Runge (Marketing, NEFF), Carlo Sauber (Chef and teacher, Lycée Technique de Bonnevoie), Prof. Ines Thiele (Biomedicine expert, University of Luxembourg) and Guy Wolff (Head of photography, Luxemburger Wort).
The public vote happened via the website www.blogaward.lu, with more than 3,300 votes counted between April and September 2017.
Registrations for the next Blog Award in Luxembourg will start in autumn 2018, with an award ceremony planned for autumn 2019.
The winners of Luxembourg's first KACHEN BLOG AWARD 2017 were as follows:
Audience award in the category Food:
F4OD (Valentina Quaranta) - She was presented with a mix of Villeroy & Boch sets for 6 persons composed by the collections Artesano, Pasta Passion and Coffee Passion.
Audience award in the category Lifestyle:
Noraschi (Nora Willems) - A night's stay at the Hotel Le Place d'Armes for two people, including dinner and breakfast in the new Rôtisserie designed by Tristan Auer.
Jury award in the category Food:
The Green Creator (Bianca Ciric) - A fully-automated, mobile photo studio WESUAL CLICK.
Jury award in the category Lifestyle:
Kinlake (Linda Dieschbourg & David Mourato) - A weekend at Le Royal Hotels & Resorts Luxembourg for two people, including breakfasts, dinners, Sunday buffets and spa admissions.
Coup de Cœur du Jury:
De Grénge Léiw (Sven Mühlen) - A Miele GourmetStar steam oven with MonoSteam technology.
Coup de Cœur du Luxemburger Wort:
Cookerei (Salomé Jeko) - A 1/1 page in the Luxemburger Wort and the original printing plate from the newspaper printing.
Special prize main partner Food Cactus:
La Rivière Rose (Sarah Laura Mignani) - A visit of Hervé Mons in Lyon, France, including travel, accommodation and stay for two people and a Yämmi cooking machine.
Special prize main partner Food & Lifestyle NEFF:
Plateful Nutrition (Vesela Savova Drews) - A fridge-freezer combination (KG7493B30) from NEFF with magnetic matt glass doors.