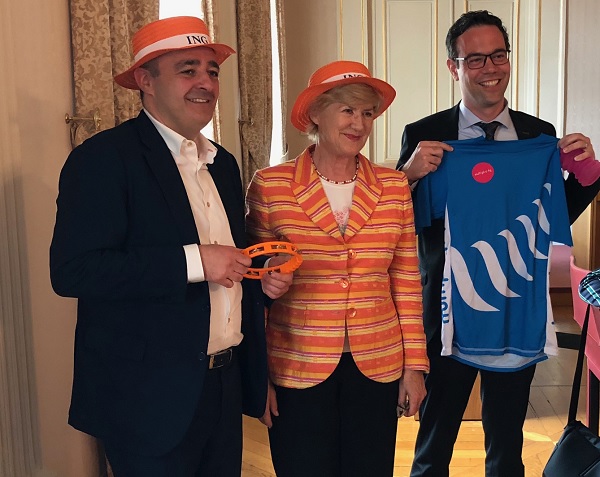 (L-R): P. Goldschmidt, VdL; Simone Beissel, VdL; F. Kieffer, ING Luxembourg;
The upcoming 2018 edition of the ING Night Marathon Luxembourg is shaping up to be another great success on Saturday 12 May 2018.
The event's appeal continues to grow with a record-breaking 16,000 participants and tens of thousands of spectators expected. As in each of the last 13 years, the marathon is being met with incredible enthusiasm - the race has been sold out since 1 March.
In all, ING will be represented with nearly 1,000 participants and volunteers on race day. On 12 May, the city will be overrun with a wave of orange, from signage (inflatable arches, inflatable lions, ING hot air balloon, banners and more) to the treats being handed out to the general public ‒ thousands of gadgets in our signature colour.
This year, ING will again stake out a bold presence in the city centre with a variety of activities, including at its stand on the Place d'Armes with the ING–Eldoradio booth and an Express Shop at Luxexpo for the fourth consecutive year. The pop-up store will offer a wide range of items produced by ING, including sport apparel and accessories, in ING colours. After the marathon, the proceeds from the shop's sales will go to UNICEF.
During the press conference held on Monday 23 April, at the Luxembourg Hotel de Ville, Frédéric Kieffer, Head of Retail Banking ING Luxembourg, declared: "At ING, we are proud of what we have accomplished since launching the marathon, thanks to our strong working relationships with the City of Luxembourg and the organiser Step by Step. Seeing the extent to which the ING Night Marathon has been embraced in Luxembourg, I am truly delighted to participate in launching the latest edition. It is with immense pleasure that ING supports the many participants, to whom I'd like to wish an excellent race."