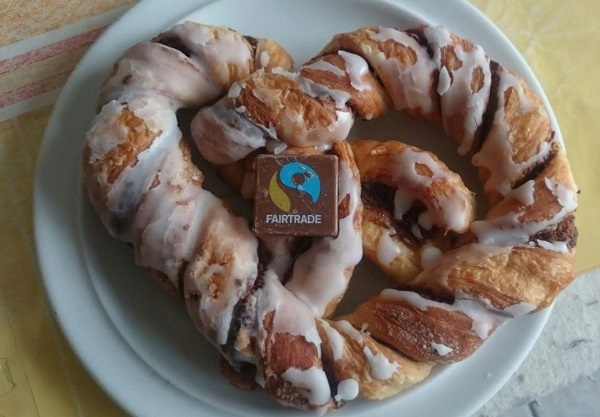 Credit: Jazmin Campbell
Luxembourg will celebrate "Bretzelsonndeg" (Pretzel Sunday) on Sunday 19 March this year.

According to the Luxembourgish tradition, a man would offer his female love interest a pretzel on Bretzelsonndeg. Three weeks later at Easter, if the feeling was mutual, he would receive an Easter egg from her in return. If she was not interested in him, however, she would give him an empty basket. This is where the Luxembourgish expression "de Kuerf kréien" (literally: to get the basket, to be rejected) stems from.

In leap years, the woman offers her male love interest a pretzel while the man has to give her an egg or basket in return.

Unlike the well-known bread-like and salted German pretzel, this sweet Luxembourgish variant of the pretzel is usually larger and consists of puff pastry, made with eggs and butter, covered in fondant icing and almond flakes.

Pretzels can also be found in Alsace, in France. Folded in a specific way, the shape of pretzels is said to symbolise lovers arm in arm. The word pretzel derived from the Latin word for "arm" ("bracchium"; Old High German: "brezitella") due to its appearance of interlaced arms.

The tradition of Bretzelsonndeg stems from the Middle Ages. Catholic Christians called the fourth week of Lent "Laetare Sunday", meaning "Sunday of joy". On this day, breaking the fast and the temporary stop of abstaining from certain foods was permitted during the Lent period. People could gather together and share a richer meal, including hard boiled eggs. It was a good occasion to use up the eggs that would not keep during the following 40 days of Lent.