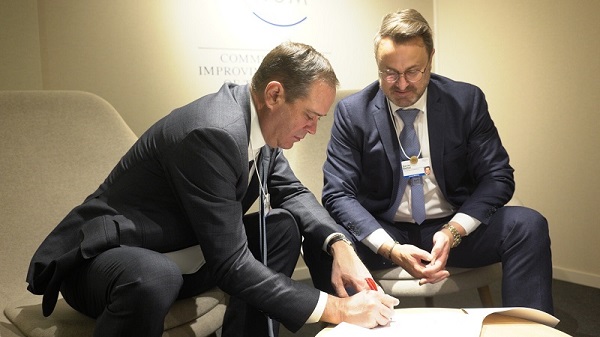 (L-R): Chuck Robbins, CEO CISCO; PM Xavier Bettel;
At the 2023 World Economic Forum in Davos, Switzerland, Luxembourg's Prime Minister, Xavier Bettel, and Chuck Robbins, President and CEO of Cisco, announced new initiatives aimed at accelerating digital transformation in Luxembourg.
These will revolve around three axes: cybersecurity, talent development and education, and sustainability. As part of its Country Digital Acceleration (CDA) program, Cisco reiterates its support for Digital Luxembourg, the Grand Duchy's long-term digitisation movement.
"Since starting our collaboration with Cisco in 2018, we have made great strides in addressing challenges such as cybersecurity and digital education. Today, we have agreed to further develop these initiatives and move into new areas. We intend to leverage Cisco's sustainability expertise to accelerate our decarbonisation strategy. Given the success of our first Country Digital Acceleration partnership with Cisco, I am confident that we will continue to achieve our common goal of facilitating the digitalisation of Luxembourg nationwide," said Prime Minister Xavier Bettel.
"Luxembourg's top position in various international rankings demonstrates the positive impact of digitalisation for its citizens and its economy. I'm proud of Cisco's involvement at this level. We are both convinced that developing the future Grand Ducal workforce and safeguarding the security of critical infrastructure and major assets of the financial sector are essential to a successful digitisation strategy. Recent years have shown that Luxembourg is a globally connected economy, a test bed for innovation and a country looking to the future. I thank the Prime Minister for his continued confidence in Cisco," said Chuck Robbins.

Key projects of the first phase of the Cisco Country Digital Acceleration programme in Luxembourg:
- Talent development and education: Contributing to the Grand Duchy's Digital Skills Bridge programme, six Cisco Networking Academies are active in Luxembourg, and 2,100 students were certified during the first phase of CDA. In partnership with the University of Luxembourg, Cisco is accelerating digital education innovation through the "Collaboration 21" programme, which aims to address challenges at the intersection of user experience, education and digital technologies.
- High Performance Computing (HPC): Cisco participated in the development of the Meluxina supercomputer at LuxProvide which will become one of the 50 most efficient supercomputers in the world. Following Cisco's business model study, the HPC platform is now in production.
- Cybersecurity: outline of a programme for the security of critical infrastructures; development of DNS protection services for all SMEs in Luxembourg.
2018 MoU
In January 2018, around the World Economic Forum in Davos, Switzerland, Luxembourg's Prime Minister, Xavier Bettel, and Chuck Robbins, CEO of Cisco, signed a memorandum of understanding concerning a collaboration agreement that aimed to accelerate the digitisation of Luxembourg in line with the "Digital Lëtzebuerg" initiative, the cornerstone of the country's digital transformation roadmap. As part of this agreement, the government intended to focus on four pillars: education, cyber security, the Internet of Things ("IoT") and the FinTech domain. At the signing of this agreement, PM Bettel said: "Luxembourg aims to be a digital leader in Europe" before continuing "This is not only to attract more investment and continue to develop the country's digital sector, but also to prepare - particularly through innovative methods at the level of Education - the skills that our citizens will need in the future".