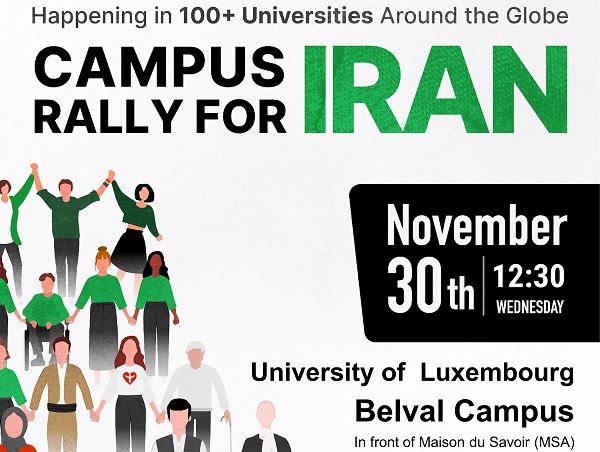 The SIMOURQ asbl, together with a group of freethinking Iranian students of the University of Luxembourg, are organising a rally at the university's Belval campus on Wednesday 30 November 2022 at 12:30.
A coordinated series of protests are being held at over a hundred universities world-wide; the Luxembourg rally is being organised in line with the global protest campaign in academic centres to support the pro-democracy revolution in Iran which aims to inform the academic community of Luxembourg about the violation of human rights by the Islamic Republic, especially the violation of the rights of Iranian academics.
According to the organisers of the Luxembourg event, "during the past 70 days, hundreds of Iranian students have been killed, injured or arrested. The Abdurrahman Broumand Center has reported that 555 students have been detained between 17 September and 23 November 2022. Many of these students have been tortured and their lives are in danger. The dictatorial regime of Iran began to violate the rights of academics shortly after the 1979 revolution. International human rights organizations report that thousands of Iranian students have been executed between 1979 and 1988. Despite severe repression, the student movement has always been and will remain one of the most important factors in Iran's social development. Our protest can familiarise the academic community of Luxembourg with the conditions of Iranian students, graduates, and professors who are under repression. Additionally, we will request the University of Luxembourg to practically support the Iranian students and academics who are affected by the tragic situation in Iran. Finally, this gathering is an opportunity to express solidarity among Iranians, especially students, in this sorrow".
The rally's meeting point is in front of Maison du Savoir (MSA), Belval Campus of the University of Luxembourg, on Avenue de la Fonte.
According to the organisers, the demonstration is planned for uncensored solidarity with the revolutionary movement of Iranians, including Iranian academics. Carrying placards, photos, flags and slogans to accompany the revolutionary uprising is not prohibited. The organisers have requested that, preferably, placards should be written in English, and also to refrain from any verbal or non-verbal insults.