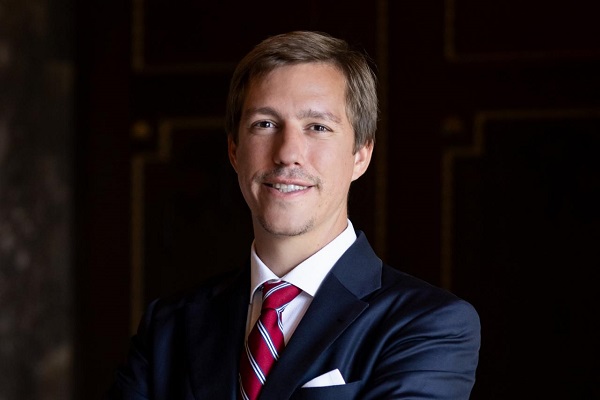 Prince Louis; Credit: © Maison du Grand-Duc / Sophie Margue
His Royal Highness Prince Louis of Luxembourg will celebrate his 36th birthday today, Wednesday 3 August 2022.
Born on 3 August 1986 at the Maternité Grande-Duchesse Charlotte in Luxembourg, Prince Louis is the third child of Their Royal Highnesses the Grand Duke and Grand Duchess of Luxembourg.
Prince Louis has two sons from his first marriage with Tessy Antony, Prince Gabriel Michael Louis Ronny, born in Geneva (Switzerland) on 12 March 2006, and Prince Noah Etienne Guillaume Gabriel Matthias Xavier, born in Luxembourg on 21 September 2007.
After attending primary school in Lorentzweiler, Prince Louis began his secondary education at the American School of Luxembourg. He then went to the Collège Alpin Beau Soleil in Switzerland, where he continued his studies and obtained a secondary school diploma in June 2005.
Prince Louis is fluent in Luxembourgish, French, English and German and has a very good knowledge of Spanish.
During his studies in Switzerland, Prince Louis became particularly interested in social and humanitarian work. He pursued this interest and in 2006, he spent a year working for the Red Cross in Geneva in various fields, such as logistics and event organisation. He also participated in the supervision of children''s groups and the support of elderly people.
In 2007, Prince Louis worked in forestry management for the Administration of the Assets of the Grand Duke. In 2008, he decided to take courses at the Miami University Dolibois European Center in Luxembourg.
He then spent two years in the United States (US), where he completed a training course in aeronautics, granting him a private pilot licence in 2011. After this, he moved to the United Kingdom (UK) to continue his studies.
In 2014, Prince Louis obtained a degree in Communication at Richmond, the American International University in London. In 2015, he trained at the European Landowners Organization, which is committed to the promotion of sustainable and prosperous rural regions and to raising awareness of environmental and agricultural issues in Europe.
Subsequently, Prince Louis completed his studies at Birkbeck University in London and now holds a Master's degree in Psychosocial Studies.
Whenever his schedule allows it, Prince Louis returns to Luxembourg and takes part in the activities of the Grand Ducal Family, such as the National Day or the last day of the traditional Octave. He also takes part in major family events, such as religious services for the Grand Ducal Family or, more recently in 2019, the centenary of the accession to the throne of Grand Duchess Charlotte.
Prince Louis has held the Order of the Gold Lion of the House of Nassau since 2004.