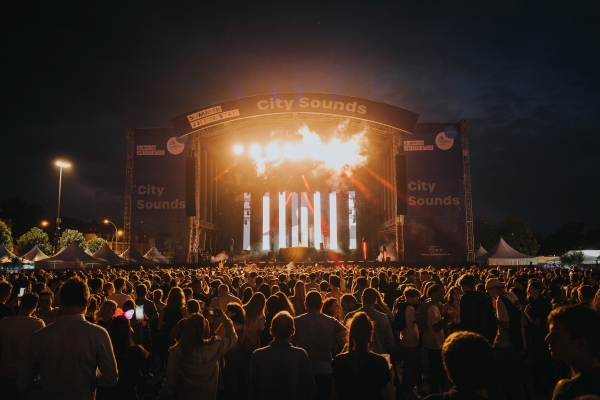 City Sounds - Glacis in concert; Credit: VdL
After a two-year break due to the COVID-19 pandemic, Luxembourg's traditional National Day Eve festivities once again drew a large crowd to the capital on Wednesday 22 June 2022.
Whilst activities took place across the country, the largest celebrations were held in Luxembourg City, kicking off on Wednesday afternoon with the traditional changing of the guard outside the Grand Ducal Palace.
Later in the evening, members of the Grand Ducal family and the municipal council of the City of Luxembourg (Ville de Luxembourg - VdL) watched the traditional torchlight procession (Fakelzuch) from a ceremonial stage. The procession departed Puits Rouge on Grand Rue, passing by Rue de l'Ancien Athénée towards Boulevard F D Roosevelt and ending in front of the Passerelle (Luxembourg Viaduct) bridge.
One of the highlights of the evening was the seventeen-minute firework display (fired from Adolphe Bridge) which began around 23:00, accompanied by various musical compositions.
A number of concerts and various other activities took place across Luxembourg City throughout the evening. One such event was "City Sounds - Glacis in concert", which was free to all and included performances by Alle Farben, Ogazón and Maximillion b2b Riven.
The celebrations continued on National Day itself, Thursday 23 June 2022, with the official ceremony at Philharmonie Luxembourg, the traditional military parade and the Te Deum religious service at Notre-Dame Cathedral.