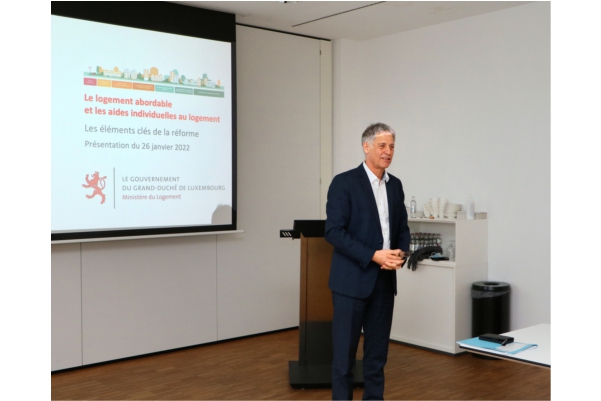 Henri Kox, Luxembourg's Minister of Housing; Credit: MLOG
Luxembourg's Minister of Housing, Henri Kox, recently presented the key elements of the reform of the 1979 law relating to housing assistance to various players in affordable housing.
Two bills will replace the current law, which is over 40 years old. The first bill will put in place a clear, transparent and fair framework for the financing of affordable housing and support for its inhabitants. The second bill plans to expand and simplify the individual supports for housing, rental and private market ownership.
An initial meeting on Wednesday 19 January 2022 with representatives from non-profit organisations, foundations, social offices and congregations brought together around forty people to discuss aid intended for social promoters and social landlords, and on Wednesday 26 January 2022, Minister Kox presented the reform to the committee of the Syndicate of Luxembourg towns and municipalities (Syvicol). The delegation was led by its president Emile Eicher.
During his presentation, Minister Kox highlighted the various aspects of the Affordable Housing Bill, the aim of which is to boost the creation of affordable housing. This bill includes the definition and operation of affordable housing, the role of the social landlord and social promoter, state co-financing known as "Help for stone", the specifications, the allocation of affordable rental housing, the lease and calculation of affordable rent, social rental management.
"This reform is a cornerstone of the housing strategy, the objective of which is the realisation of the right to housing in order to work for social cohesion", said Minister Kox, during the interviews.
Syvicol was represented by: Emile Eicher, Lydie Polfer, Louis Oberhag, Jean-Paul Schaaf, Raymonde Conter-Klein, Paul Engel, Michel Malherbe, Jean-Marie Sadler, Gerard Koob and Johanne Fallecker.