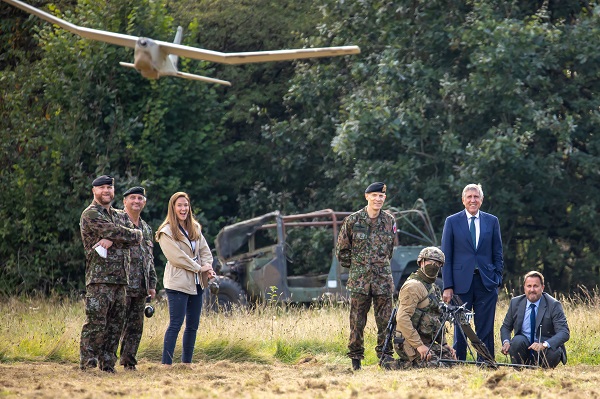 L-R: Lieutenant-Colonel Kim Kirsch; Colonel Yves Kalmes; Nina Garcia, government advisor at Defence Directorate; General Steve Thull; n/a; François Bausch, Deputy Prime Minister, Defence Minister; Prime Minister Xavier Bettel; Credit: Luxembourg Army
On Monday 20 September 2021, Luxembourg's Prime Minister Xavier Bettel and the Deputy Prime Minister and Minister of Defence, François Bausch, visited the Military Centre (Centre Militaire) in Diekirch.
After being welcomed by the Chief of Staff of the Luxembourg Army, General Steve Thull, the Prime Minister and Deputy Prime Minister took part in a dynamic demonstration of the Army's capabilities.
The delegation then visited the satellite anchoring station and an exhibition of equipment used in the reconnaissance units as well as a series of stands presenting the support that the Army provided during the fight against COVID-19 and the July floods in Luxembourg. Members of the Army also explained to the ministers how they had been involved in the evacuation of Luxembourg nationals from Afghanistan.
Ministers Xavier Bettel and François Bausch personally thanked the Army personnel for their commitment during the health crisis and the recent floods.