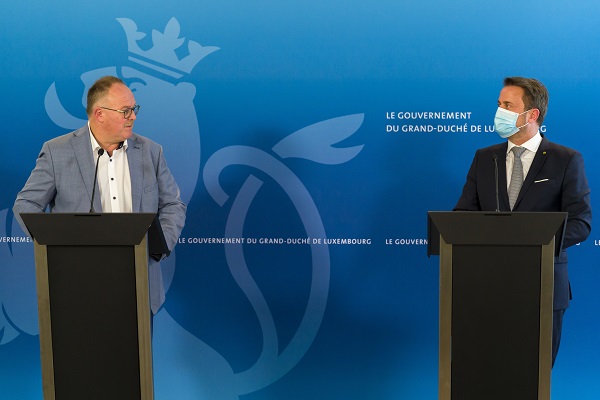 L-R: Romain Schneider, Luxembourg's Acting Minister of Health; Xavier Bettel, Prime Minister; Credit: SIP / Emmanuel Claude
At a press conference on Friday afternoon, Luxembourg's Prime Minister Xavier Bettel and Acting Minister of Health Romain Schneider announced the extension of current COVID-19 restrictions until 15 May 2021 inclusive.
COVID-19 Measures
Following an analysis of the situation, in the context of high but stable coronavirus case numbers, the Luxembourg government has decided to extend current measures until 15 May 2021.
Vaccine Rollout Strategy
Prime Minister Xavier Bettel confirmed that Johnson & Johnson has not yet planned any new deliveries of its one-shot vaccine. Luxembourg received a first batch of 2,400 doses of the vaccine earlier this week. Vaccine deliveries from Moderna, AstraZeneca and Pfizer are expected in stages in the next months, with over 300,000 doses of the latter (Pfizer) should arrive by the end of June 2021.
The Prime Minister added that 83% of vaccines have been administered to date. The participation rate is currently around 72%. He later stressed that getting vaccinated remains a personal choice in Luxembourg.
On the subject of blood clot concerns associated with the AstraZeneca vaccine, Prime Minister Xavier Bettel confirmed that, in line with recent guidance from the European Medicines Agency (EMA), Luxembourg would continue vaccinating all age groups with the vaccine. He maintained that the benefits of the jab continued to outweigh the risks and said that it would be irresponsible not to use all available vaccines, especially if we are looking to achieve herd immunity as soon as possible.
The Prime Minister added that a waiting list will be set up for anyone aged 30 to 54 wishing to receive the AstraZeneca vaccine. This will depend on the fulfilment of expected deliveries.
He also recalled that those who wish to receive the jab will have the chance to discuss the risks with a doctor and a nurse in vaccination centres.
Romain Schneider, who is serving as Acting Minister of Health until Minister Paulette Lenert's return on Monday, confirmed that the situation is stable at present but we must remain vigilant. He explained that the British (UK) variant (B.1.1.7) currently represented around 74% of all new cases, whilst the South African (SA) variant (B.1.351) represented over 19% of cases.
Minister Romain Schneider noted that measures could be adapted or even lifted after 15 May, provided the situation remains stable. Sports and gyms could see similar adaptations as those applied recently to restaurant and bar terraces. Groups of up to ten people could be allowed to perform together under strict regulations in the cultural and music fields.
Prime Minister Xavier Bettel recalled that such changes may not seem like a lot, but would be important for those concerned by the measures.