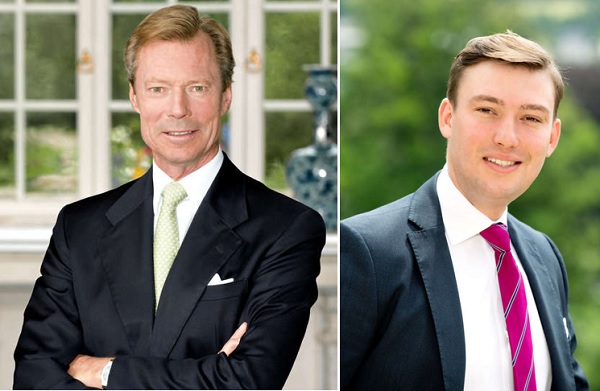 L-R: Grand Duke Henri; Prince Sébastien; Credit: © Cour grand-ducale / Lola Velasco
On Friday 16 April 2021, Their Royal Highnesses the Grand Duke and Prince Sébastien will celebrate their 66th and 29th birthdays respectively.
His Royal Highness the Grand Duke, the eldest son of the late Grand Duke Jean and Grand Duchess Joséphine-Charlotte of Luxembourg, was born on 16 April 1955 at Betzdorf Castle in Luxembourg. He succeeded his father Grand Duke Jean on 7 October 2000 as Grand Duke of Luxembourg.
In 1974, Prince Henri attended the Royal Military Academy Sandhurst in the United Kingdom. He was appointed Commissioned Officer in 1975 and Honorary Major of the Royal Parachute Regiment (UK) in 1989. As Head of the Luxembourg Armed Forces, he holds the rank of a General.
On 14 February 1981, Prince Henri married Maria Teresa Mestre, whom he met during his studies at the University of Geneva. The Grand Duke and Grand Duchess have four sons and one daughter: Prince Guillaume, the Hereditary Grand Duke (born 1981), Prince Félix (1984), Prince Louis (1986), Princess Alexandra (1991) and Prince Sébastien (1992). They also have four grandsons and one granddaughter: Gabriel (2006) and Noah (2007), the children of Prince Louis of Luxembourg, as well as Amalia (2014) and Liam (2016), the children of Prince Félix and Princess Claire of Luxembourg, and Prince Charles (2020), the son of the Hereditary Grand Duke and the Hereditary Grand Duchess.
His Royal Highness Prince Sébastien, the youngest child of the Grand Duke and Grand Duchess, was born on 16 April 1992 at the Maternité Grande Duchesse Charlotte in Luxembourg.
Prince Sébastien attended St. George's International School for his primary education. He then went to the UK where he attended Sunningdale School and Ampleforth College, before completing his secondary education with an International Baccalaureate at the International School of Luxembourg (ISL). He later enrolled in the Franciscan University of Steubenville, USA, where he completed his studies, attaining a Bachelor of Science in Marketing and Communication, in December 2015.
Prince Sébastien successfully completed officer training at the prestigious Royal Military Academy Sandhurst, before being sworn in as an officer of the Luxembourg Army, in 2017. Since then, Prince Sébastien has commanded a platoon of the Irish Guards, a regiment of the British Army in which his grandfather, the late Grand Duke Jean, served during World War II.