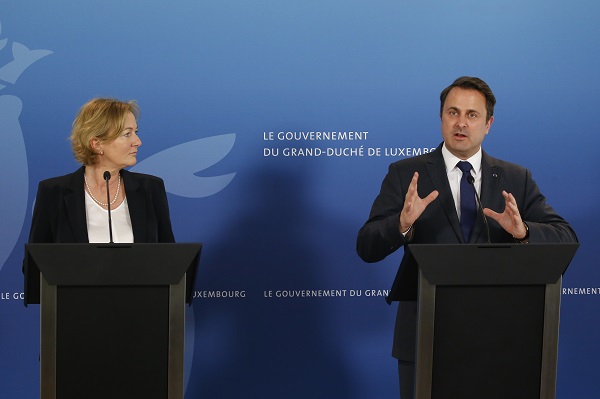 L-R: Paulette Lenert, Luxembourg's Minister of Health; Xavier Bettel, Prime Minister; Credit: SIP
At a press conference on Friday afternoon, Luxembourg's Prime Minister Xavier Bettel announced the extension of current COVID-19 restrictions until 14 March 2021 inclusive.
The Prime Minister noted that current restrictions had helped improve the situation in Luxembourg's hospitals, although the incidence rates and the number of daily infections were slowly increasing. He added that new variants of the virus were a matter of concern in Luxembourg and beyond.
Prime Minister Xavier Bettel confirmed that further financial assistance will be introduced for companies. More specifically, companies which have been forced to close or have had losses of 75% or more due to the COVID-19 pandemic and related government measures will be eligible for 100% of covered costs. Luxembourg's Minister for Small and Medium-Sized Enterprises, Lex Delles, is expected to provide further details on Monday.
Regarding vaccination roll-out, Luxembourg is slowly coming to an end of the first phase. The Prime Minister confirmed that the second phase (over-75s and around 5,000 highly vulnerable individuals) is expected to start in the next weeks, provided the next deliveries arrive on time. Those who are eligible for the vaccine should receive their invitations by the end of next week, starting with the oldest individuals.
In addition, Luxembourg has agreed to send medical teams to Portugal in a show of solidarity. The first team of doctors and nurses will go over this weekend, followed by a second team next week.
Luxembourg's Minister of Health Paulette Lenert then went into further detail about the vaccination roll-out. She confirmed that three additional vaccination centres will open soon in Esch-sur-Alzette, Ettelbruck and Mondorf-les-Bains. The minister also called for solidarity among the public to help invitees get to these centres if they have no means of getting there themselves.
Like the Prime Minister, Health Minister Paulette Lenert acknowledged the improved situation in hospitals and the proven efficiency of current measures, although uncertainty remained concerning new variants of the virus. It is therefore important to remain cautious and continue to respect barrier gestures. She warned that "we are not yet out of the woods". She added that in some cases, people who received the first dose of the vaccine still contracted the virus.