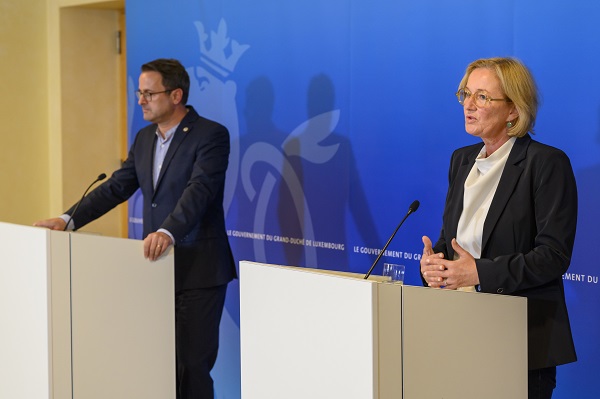 L-R: PM Xavier Bettel; Health Minister Paulette Lenert; Credit: SIP / Christophe Verhaegen
During a press conference on Friday afternoon, Luxembourg's Prime Minister Xavier Bettel announced that the current COVID-19 restrictions will be extended until Sunday 21 February 2021.
Whilst existing measures appear to be bearing fruit and the situation is headed in the right direction, the Government Council, which met just before the press conference, decided that now was not the time to ease restrictions.
The Prime Minister recognised that new infections had fallen recently compared to the weeks before and that hospitals were under less pressure; there are currently 63 patients in normal care and fourteen patients in intensive care. He thanked the general public for their contribution to this improvement.
That being said, the uncertainty brought by the detection of new virus mutations meant that restrictions could not be eased. Instead, those measures which were set to expire on 31 January, including the closure of restaurants, will be extended until 21 February 2021.
Prime Minister Xavier Bettel also confirmed that the government was considering introducing new measures for people coming back into Luxembourg (residents and non-residents alike). He emphasised that travel was not forbidden but that travellers should be aware that new restrictions, such as required COVID-19 testing, may be introduced. Further details are expected to emerge following consultation in the Chamber of Deputies next week. Nonetheless, the Prime Minister stressed that Luxembourg was lobbying for open borders in the EU, not least because the Grand Duchy's healthcare sector depends heavily on cross-border workers. Regarding the potential introduction of a vaccination passport, he clarfied that Luxembourg's authorities would not take a decision until there was greater certainty over whether or not vaccinated individuals can catch and pass on the virus.
Luxembourg's Minister of Health Paulette Lenert agreed that the measures introduced at the end of 2020 had resulted in the encouraging trend they had hoped for. The average number of new cases per one million residents has fallen below the European average and pressure has been taken off hospitals. However, more contagious virus mutations remained a big concern for Luxembourg and neighbouring countries. She stressed that the "risk is real" and so it was important to prepare ahead. As of 22 January 2021, twelve cases of the British variant of coronavirus have been detected in Luxembourg.
Regarding vaccination, the Health Minister acknowledged that Luxembourg (and elsewhere) had experienced delivery delays. She confirmed that the next three deliveries of the Pfizer-BioNTech vaccine will contain fewer doses but from 21 February, the number is expected to increase again. Likewise, the Moderna vaccine delivery has been delayed by a week. She added that 40.9% of people who had received an invitation to get vaccinated have now made an appointment; the deadline is Sunday 24 February 2021.
Prime Minister Xavier Bettel recalled that the AstraZeneca vaccine is set to be approved at the end of this month. Vaccinations will begin immediately after it gets the green light. He also stressed that, unlike some other countries, Luxembourg prioritised being able to guarantee that people receive both doses of the vaccine within the timeline.