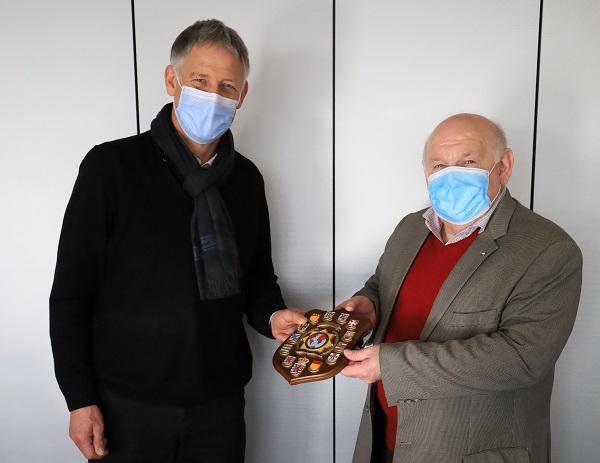 L-R: Henri Kox, Luxembourg's Minister of Internal Security; Eugène Thommes, VP of IPA Luxembourg; Credit: IPA Luxembourg
On Thursday 21 January 2021, Luxembourg's Minister of Internal Security, Henri Kox, received three representatives of the Luxembourg section of the International Police Association (IPA): Eugène Thommes, Vice-President; Marc Spanier, Editor; and Yann Wagner, Head of IPA House.
The representatives presented their organisation to Henri Kox, the minister responsible for the Grand-Ducal Police, which has more than 380,000 members worldwide, including around 1,700 Luxembourg members. Minister Henri Kox expressed his view that the organisation, which celebrates its 60th anniversary this year, gives a good image of the police, both nationally and internationally.
The Luxembourg section of the IPA was created on 12 July 1961 by a handful of police officers. In September 1961, the Luxembourg section was officially recognised by the IPA at an international congress in Stuttgart, Germany.
The aim of the organisation is to connect police officers (active or retired) from all over the world and to offer them the opportunity to discuss good practices, both formally and informally. Meetings are regularly organised by the various international sections, where cultural and social activities are offered, as well as seminars or further education. IPA Luxembourg has two regional sections: IPA Nord and IPA Sud.