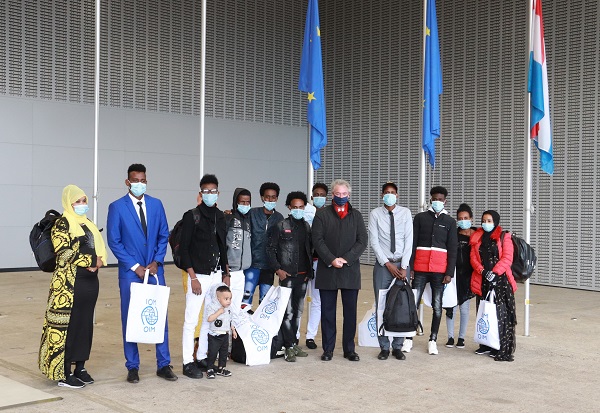 Foreign Minister Jean Asselborn welcomes the refugees at Luxembourg Airport; Credit: MAEE
Luxembourg's Ministry of Foreign and European Affairs announced that fourteen refugees arrived in the Grand Duchy today as part of a resettlement from Niger.
On Friday 16 October 2020, Jean Asselborn, Minister of Foreign and European Affairs, met with the refugees upon their arrival at Luxembourg Airport.
This resettlement is part of a call launched by the European Commission in 2017. In October 2017, Luxembourg responded to this call by expressing its commitment to taking in refugees within the framework of relocations.
Part of this commitment was fulfilled in October 2019 by a resettlement mission to Niger as part of the Emergency Evacuation Transit Mechanism (ETM). After the arrival of a first group of 35 people in December 2019, that of the second group had to be postponed due to the situation related to the COVID-19 pandemic. With the arrival of the fourteen refugees today, with the help of the United Nations High Commissioner for Refugees (UNHCR) and the International Organization for Migration (IOM), all the refugees selected from Niger have now arrived in Luxembourg.
With regard to the profile of these newly arrived refugees, twelve are adults and two are children. The Foreign Ministry stressed that these are vulnerable people who had been detained in extremely difficult conditions in detention centres in Libya and subsequently evacuated by the UN IOM to Niger. The refugees are of Somali and Eritrean descent, while the group consists of three families and five unmarried individuals.