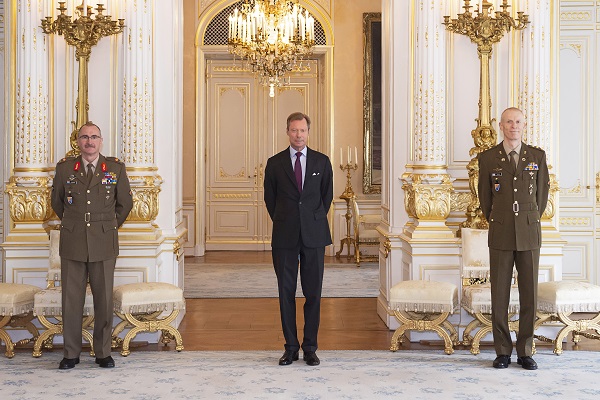 L-R: General Alain Duschène; HRH the Grand Duke; General Steve Thull; Credit: © Cour grand-ducale
Luxembourg's outgoing Chief of Defence, General Alain Duschène, passed the baton today to his successor General Steve Thull.
On Monday 28 September 2020, His Royal Highness the Grand Duke received in audience at the Grand Ducal Palace Generals Alain Duschène and Steve Thull on the occasion of their handover.
General Duschène asserted his retirement rights today, Tuesday 29 September 2020. His retirement was confirmed at the end of January 2020. The 60-year-old, who joined the army voluntarily aged 18, succeeded General Romain Mancinelli as Chief of Defence in September 2017.
The official handover ceremony took place on Tuesday at the Military Centre in Diekirch. Luxembourg's Deputy Prime Minister and Minister of Defence, François Bausch, thanked General Duschène for his constant commitment to the reform and modernisation of the Luxembourg Army. He then welcomed General Thull in whom he placed all his confidence in the pursuit of the army's major projects.
General Steve Thull trained as a candidate officer at the Royal Military Academy in Brussels from 1987 to 1991. From 2006 to 2007, he completed a cycle of higher military education in Paris. During his career, he was, among others, a mortar platoon leader, anti-tank platoon leader and scout platoon leader before becoming a company commander. Subsequently, he assumed various staff functions including those of personnel and public relations officer of the army, deputy commander of the Military Centre, deputy officer to the studies and planning officer and finally as an information and communication systems officer of the Luxembourg Army. General Thull participated in the NATO IFOR mission in Bosnia and Herzegovina and the EUFOR mission in Chad and the Central African Republic.